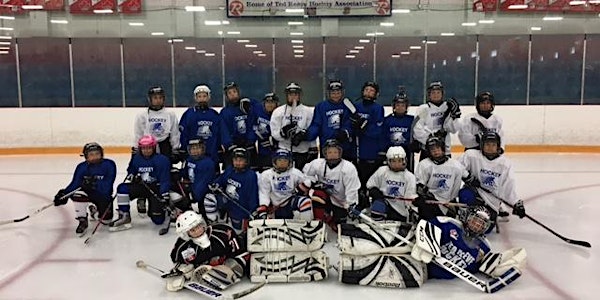 Christmas Break Hockey Camp: January 3-6, 2023
Christmas holiday camp at Ted Reeve Community Arena. Designed for girls and boys at the beginner and intermediate level ages 5-14.
When and where
Location
Ted Reeve Community Arena 175 Main Street Toronto, ON M4E 2W2 Canada
About this event
Christmas hockey camp at Ted Reeve community arena in the Beach. Designed for girls and boys at the beginner and intermediate level ages 5-14. Goalie instruction is also available. Three hours of daily ice which includes a 45 minute power skating component, plus puck skills and mini scrimmages. 
Instructional day from 9 a.m. to 4 p.m. with additional supervsion from 4:15-5:15 p.m. available. Some partial week and half day options available. Please email; hockeyfun@rogers.com for details.
FAQs
What can I bring into the event?
Full hockey equipment required and clothing for indoor gym (sweatpants and sweatshirt ). Please provide the following on a daily basis;  mini-sticks.
How can I contact the organizer with any questions?
Email us at; hockeyfun@rogers.com
What's the refund policy?
Refunds are only available if a program is cancelled. Credits are issued if someone notifies us in writing at lease 7 days prior to the first day of camp. Credits are available for 12 months after the original scheduled camp.
Is there late pickup?
Yes, regular pickup is from 4-4:15 p.m. Additional supervision can be provided from 4:15-5:15 p.m. for $15 per child/per day. Cash only, forms available at the sign in table each morning. Students will be picked up from the snack bar area after 4:15 p.m. Morning drop off is between 8:15-8:45 a.m.
What are the staff to students ratios?
6:1 on ice and 10:1 for off ice activities
Are snacks and lunch provided?
Families are responsible for providing snacks, fluids and lunch. Our hope is that the snack bar might be open.
What are the camp hours?
Our instructional day is from 9 - 4. Students attending a half day have instruction between 9-12 or 1-4. Please see above for additional supervision times. Students receive 3 hours of ice per day. The remaining time is for two physical education periods, lunch, changing and a short hockey theory session. On Friday camp is finished at 3 p.m. and therefore pickup is between 3:00-3:15 p.m.
Do students receive assistance getting changed?
Yes, staff are available to help students get changed before and after ice and also tie skates. Families may dress their children in their lower body equipment (minus their skates) for the first ice session at 9 a.m. (Junior Fundamental students ages 5-8) if they wish.