Come check out the various products made by local artisans and craftsmen. Buy unique Christmas gifts, decorations, and more.
About this event
Here is a list of vendors to come check out.
Mike Secord (host) --> Mike's Custom Creations - various wood products
Cheryl Gulseth (assistant) --> Bacalyn Designs - Signs, shirts, ornaments, décor
Michelle Cordy --> Michelle's Custom Jewelry - jewelry
Becky Jeffrey & Sarah Weese --> SJW Creations & Make It Personal - Christmas snowmen and gnomes, customized glassware, socks etc
Samantha Anderson --> 4Foxes Perth - Sewn items , Digital Art Prints, Hobby themed ornaments
Ashley Cooley & Shawna Campbell --> Fox and Needle & Hooked on Dice - fibre arts (crochet dice bags, amigurumi, knitted hats, sewn stuffies, book sleeves, sewn ornaments)
Tina Brown --> Tease Creations - I make Rice Heatbags Eye Mask Sleep Mask Bowl Cozy's
Ashley Cassell --> Betty's Creations - I make signs - tshirts-seasonal items
Lynda Moulton - grape jelly, baked goods, knitted goods
Linda Châteauneuf-Brown --> Billi - faux deserts
Melita Vincent --> Mad Mad Hatter - Hand knitted hats, toques and headbands
Diana Bayer --> Diana Bayer's Art and Doodle Du Jour - art cards and prints
April Soriano --> April's Wreaths and Southern Treats - Wreaths and baked goods
Cheryl Youldon --> Cheryl's Creations - Mittens, masks, scrunchies and scarves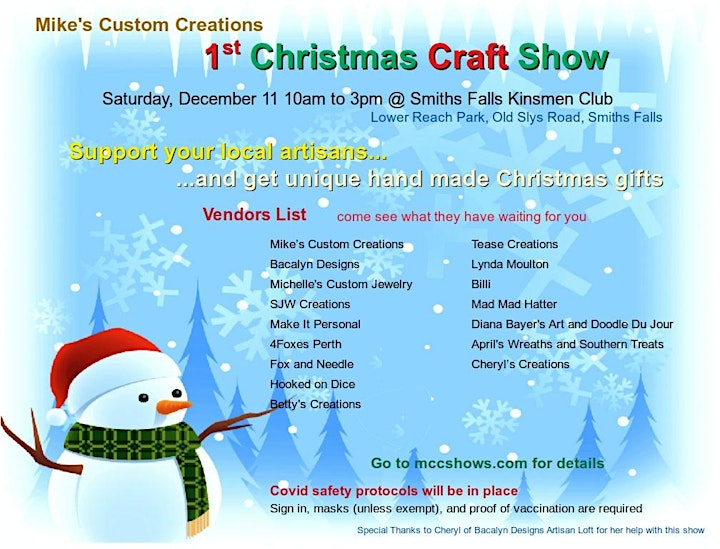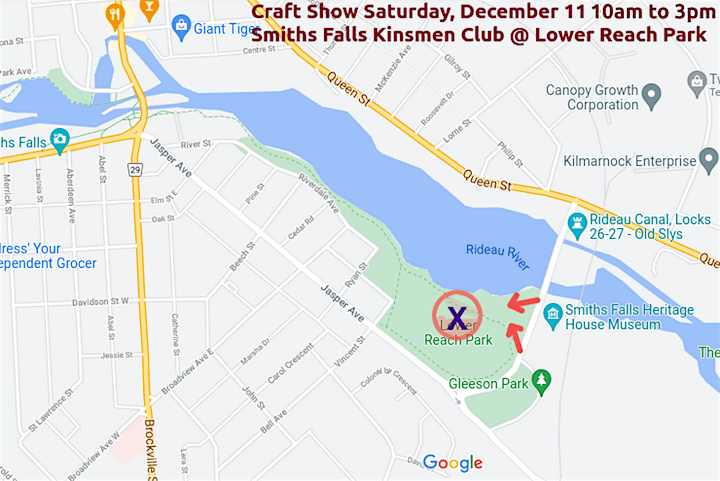 Due to Covid and the craft show being held at a nonprofit location, all shoppers must sign in, show proof of vaccination, and wear a mask unless exempt.
Organizer of Christmas Craft Show at Smiths Falls Kinsmen Club at Lower Reach Park