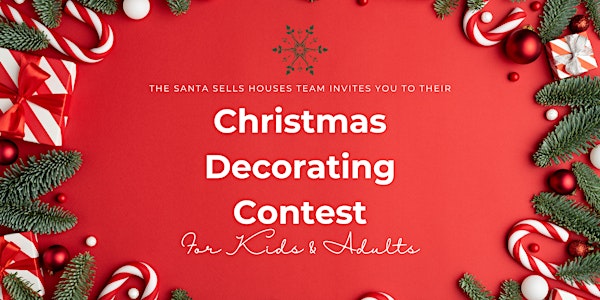 Christmas Decorating Contest
A fun contest for kids & adults both! Kids send in photos of their best homemade ornaments and adults their best decorated Christmas trees!
About this event
The Santa Sells Houses Team is happy to invite you to their first ever Christmas Decorating Contest for kids and adults alike!
What's the contest?
Kids will submit a photo of their best homemade ornaments and adults will submit a photo of their best decorated Christmas trees.
How do I enter?
Register for the event and submit your photo(s) by Friday, December 16th to Andrea at ClientCare@SantaSellsHouses.com (feel free to send in your photos any time before the due date!). Please label each photo clearly so we have all the information correct when we post them on our Facebook page.
How do you judge who wins?
We will post your photo(s) on our Facebook page and we will tag you if you provide your Facebook handle to us. Once the photo is up, you should like it and share it with all your friends and family so that they can like it too! The winner is the one who has the most likes on their photo. Simple as that!
When do we find out who won?
We will tally the votes on Monday, December the 19th and we will let the winners know first by email and then announce them on our social pages!
Are there prizes?
Of course, what's a contest without a prize?! There will be a prize for the winner of the kids' competition and one for the adults' competition. Expect to be surprised and elated. When we notify the winners that they've won, we will arrange the best time for 'Santa' to drop off their prizes.
If you are entering the contest for multiple people, please specify who is participating and in what category (kids or adults).
**Open to Ontario, Canada residents only**