Event Information
Location
Prince Edward County, ON
Canada
Description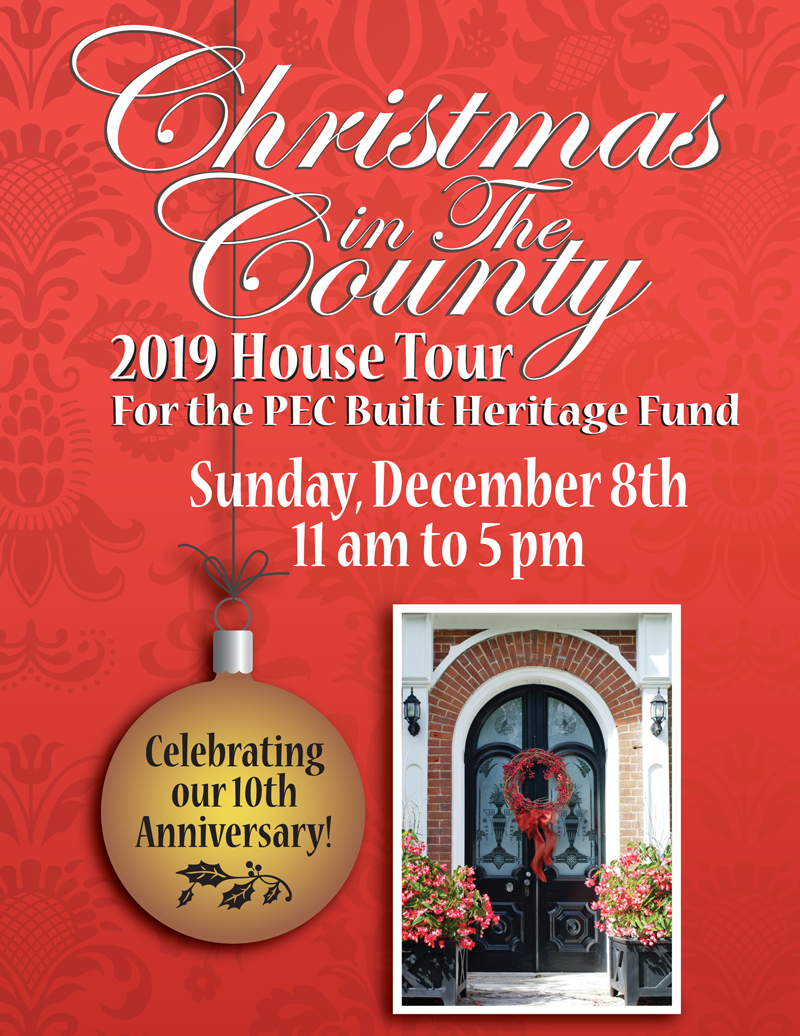 ---
We are very pleased to announce the 10th Anniversary Christmas in The County House Tour
This special event takes place in beautiful Prince Edward County.
Set your own pace as you tour wonderful County homes all decked out in their holiday finery. Enjoy samples of local treats like cider and Christmas cookies along the way. Funds raised from this self-guided tour support the preservation of heritage buildings in the County.
Tickets will be available mid-November.
We look forward to seeing you!
If you cannot make it to the event support our important work by making a donation. Click here to make an online donation. Make sure to select the Prince Edward County Built Heritage Fund from the options provided.
For more information e-mail:
Marilyn Kennedy - kennedy.pratt@kos.net
---
Online ticket purchasers
Make sure to pick up an information brochure by visiting Books & Company, 289 Main St. in Picton.
You can do this all the way up to 11 am on Sunday December 8th.
Present your hard copy pdf ticket or smart phone screen image to Books & Company staff.
The information brochure provides a detailed map and other valuable material to enhance your visit.
---
10 beautiful properties have been chosen for this year's Christmas in The County House Tour.
Here is a small sampling:
Walmsley-Ayer/Scully Farm complex, c 1875
The fact that this farmhouse was built to accommodate two generations of the Walmsley family explains the startling symmetry of the mirror-image wings. The triple-gabled façade is described as "the most sophisticated" of only three identified in "The Settlers Dream", and oddly, it is the only one of frame construction. Interestingly, the century old sugar maples lining the lane to the house would have been planted to trap snow and ease the passage of sleighs.
The Ross/McMullen House, c 1863.
A "buff" brick mansion with a commanding presence behind a stone perimeter wall, it was built by Walter Ross, a prominent Picton merchant and politician. When his businesses failed, the house was sold to George McMullen, a Boston railway tycoon. The plot to overthrow the government of Sir John A. MacDonald, which became the 1875 Pacific Scandal, may have been hatched here. Past intrigues have now been replaced by private functions in a reimagined and elegant building.
1960's bungalow that grew
Hidden behind a row of mature trees is a modest 1960's bungalow that has been completely updated and transformed by successive owners. Perched on the cliff overlooking Smith's Bay it boasts one of the most stunning views in the entire County. Morning sun drenches the glass-walled sunroom, and in the evening marine lights sparkle on the water. This is an elegant home, made festive with whimsical Christmas décor – you might even find Santa's marching band here!
---
Convenient locations to purchase a lunch or snack:
The Saylor House Cafe, 274 Main St, Bloomfield

Lily's Cafe, 289 Main Street, Picton,

Crepe Escape, 206 Main St, Picton

South Bay United Church Hall, 2029 County Rd 13, Milford
---
Season's Greetings from the Christmas House Tour Committee
Libby Crombie, Marilyn Kennedy, Jackie Soorsma, Jean Kipp, Ursula Solecki, Pam Piercey, Cynthia Taylor-Huff, Stephanie Lynn and Marilyn Lauer
Date and Time
Location
Prince Edward County, ON
Canada
Refund Policy