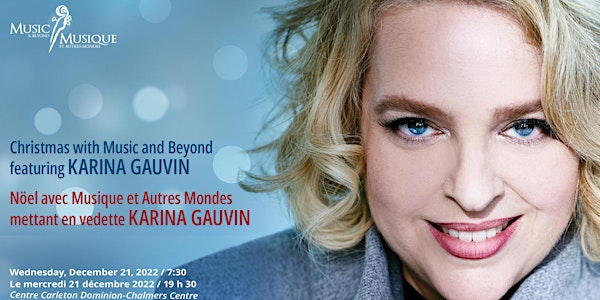 Christmas with Music and Beyond | Noël avec Musique et Autres Mondes
Join Music and Beyond for our annual Christmas concert on December 21st, 2022.
When and where
Location
Carleton Dominion-Chalmers Centre 355 Cooper Street Ottawa, ON K2P 0G8 Canada
About this event
Concert update:
Due to illness, Karina Gauvin is unable to perform at Christmas with Music and Beyond. We are delighted that Karina has agreed to perform at next year's Christmas concert on December 21, 2023. We are thrilled that three wonderful singers have agreed to join us this year: Canadian vocal superstar, countertenor Daniel Taylor; soprano Meghan Lindsay; and one of the best-loved singers to come out of Ottawa in recent years, soprano, Bronwyn Thies-Thompson.
Featuring / Mettant en vedette
Meghan Lindsay – soprano
Bronwyn Thies-Thompson – soprano
Daniel Taylor – countertenor
Lara Deutsch – flute / flûte
Dakota Martin – flute / flûte
Rob Weymouth – trumpet /trompette
Marie Bégin – violin / violon
Sara Mastrangelo – violin / violon
Marina Thibeault – viola / alto
Julian Armour – cello / violoncelle
Reuven Rothman – double bass / contrebasse
Frédéric Lacroix – piano & celesta
Marie Bouchard – harpsichord / clavecin
Caroline Léonardelli – harp / harpe
Matthew Larkin – organ and conductor / orgue et chef
Zac Pulak – percussion
Caelis Academy Ensemble
Caelis Young Choristers
Senior Harp Ensemble / Ensemble seniors de harpes,
École secondaire De La Salle
Program / Programme
Concerto Grosso opus 3 no. 12, Pastorale per il santissimo natale Francesco Manfredini
(Christmas Concerto / Concerto de Noël). 1684 – 1762
Largo – Largo – Allegro
Three Noëls / Trois noels. Michel Corrette
Allegro: Bon Joseph écoute-moi. 1707 – 1795
Adagio : Or nous dites Marie
Allegro: Où s'en vont ces gais bergers
I know that my Redeemer Liveth (From / tire de The Messiah) George Frideric Handel
1685 – 1759
Meghan Lindsay – soprano
Scherzano sul tuo volto (from / tire de Rinaldo). George Frideric Handel
Meghan Lindsay – soprano
Daniel Taylor – countertenor / haute-contre
Carol of the Bells (trad, arr. Whit Dudley)
Greensleeves (trad arr. Whit Dudley)
Senior Harp Ensemble / Ensemble seniors de harpes,
École secondaire De La Salle
Jesu Bleibet meine Freude (Jesu Joy of Man's Desiring / Jésus, que ma joie demeure). J.S. Bach
1685 – 1750
Caelis Young Choristers
Stately Dance & Country Dance. Sir Frederic Cowen
1852 – 1935
intermission / entracte
Sonata in D major for Trumpet and Strings / Sonate en ré majeur pour trompette et cordes Henry Purcell
Allegro – Adagio – Allegro. 1659 – 1695
Rob Weymouth – trumpet / trompette
O come, O come Emmanuel (trad. arr. Jacob Grammit)
Lullay my liking. Philip Stopford 1977 –
Still, still, still (trad. arr. Matthew Culloton)
Christmas Eve. Matthew Larkin –
The first nowell (arr. Paul Halley)
Caelis Academy Ensemble
Matthew Larkin – conductor / chef
Interlude from Dancing Day John Rutter 1945 –
Ceremony of Carols: Spring Carol Benjamin Britten 1913-1976
Caroline Léonardelli – harp / harpe
Sopranos from / de Caelis Academy Ensemble
Silent Night (trad.)
Es ist Ein Ros Michael Praetorius
1571 – 1621
Bronwyn Thies-Thompson – soprano
Daniel Taylor – countertenor
Andante Religioso Hugo Alfven
1872 – 1960
December (Christmas) / Décembre (Noël) Pyotr Ilyich Tchaikovsky
1840 – 1893
Sir Roger de Coverley (A Christmas Dance) Frank Bridge
1879 – 1941
Minuit, chrétiens. Adolphe Adam. 1803 – 1856
Meghan Lindsay – soprano
Morris Dance (from / tiré de Henry VIII). Edward German
1862 – 1936
Lara Deutsch – flute / flûte
Dakota Martin – flute / flûte
Marie Bégin – violin / violon
Sara Mastrangelo – violin / violon
Marina Thibeault – viola / alto
Julian Armour – cello / violoncelle
Reuven Rothman – double bass / contrebasse
Frédéric Lacroix – piano & celesta
Zac Pulak – percussion