Chronic Pain: Lets' Get Better - Primary Care Providers Conference
About this Event
We are fortunate to host two Canadian pain specialists: Dr Mandy Manak and Neil Pearson.
Dr Mandy Manak, MD FASAM, ISAM, CSAM, MRO Medical Director, ICDO, is an addiction and pain specialist. She is the founding principle and Medical Director of the Interior Chemical Dependency Office. Dr. Manak is based in Kamloops and is the Sparwood Opiod Agonist Therapy (OAT) clinic specialist. She will discuss Safe Opioid Prescribing in Pain Management.
Main learning objectives of Dr. Manak's presentation:
Main learning objectives of Dr. Manak's presentation:
1. Appreciate best practices for improved safety and efficacy of opioids in chronic pain management
2. Appreciate Urine Drug Screen Utilization and Interpretation
3. Appreciate the negative effects of long-term opioid use
Neil Pearson, PT, MSc (RHBS), BA-BPHE, CIAYT, ERYT500, is a physiotherapist, yoga teacher, UBC Clinical Assistant Professor and is the founding chair of the Canadian Physiotherapy Pain Science Division. Mr. Pearson will discuss Non-Pharmacological Pain Management Methods in Primary Care.
Main learning objectives of Neil Pearson's presentation:
1. Understand that non-pharmacological techniques can have comparable or larger effects than opioid medications
2. Know which non-pharmacological interventions have evidence to support their effectiveness
3. Create pain management plans that integrate short-term pain relief with interventions proven to create lasting improvements
A panel discussion with Dr. Mandy Manak, Neil Pearson and Leland Sims, a local pharmacist, will follow the two presentations.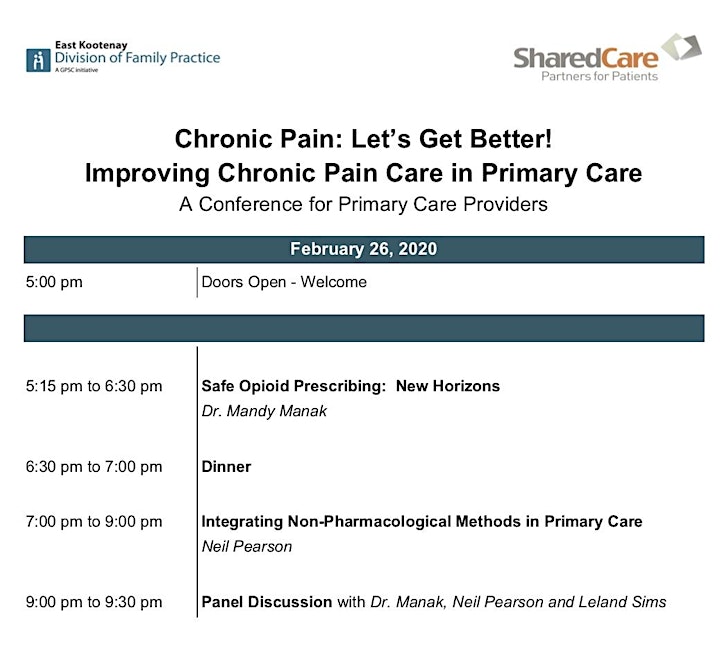 A meal will be provided.
The conference is free, thanks to the financial support of Shared Care.
Please, make sure to register.