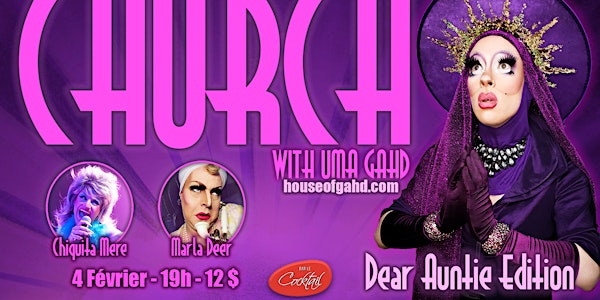 Church with Uma Gahd - Dear Auntie Edition
Get to Church early this week. Come hear the word of Gahd! SHOW: 7 PM to 9 PM Each edition includes miraculous apparitions from Gahd herself
When and where
Location
Bar le Cocktail 1669 Rue Sainte-Catherine Est Montréal, QC H2L 2S3 Canada
About this event
Get to Church early this week... LIMITED TICKETS!
Come hear the word of Gahd! A special "Dear Auntie" edition. Come get advice from some of the best aunties in Montreal. Be warned, advice might not be actually good, but it will be entertaining!
SHOW: 7 PM to 9 PM
Guests
Chiquita Mere
Marla Deer
Tickets > www.houseofgahd.com
Each edition includes miraculous apparitions from Gahd herself, as well as a selection of some of your favourite saints and sinners from around the city and beyond!
Come and hear Gahd stand-up and PREACH about whatever she has on her mind, with her Sermon on the Mount(real)!
Get dressed up in your Friday Night best, and bring a fan because it is going to get HOT, HEAVY, and HILARIOUS up in here!
Gahd bless!
Uma Gahd presents an evening of sinfully good drag, heavenly variety, stand-up comedy from her own Good Book, and the best way to spiritually cleanse your pallet before what will surely be a sinful weekend ahead!
***
Allez à l'église tôt cette semaine... BILLETS LIMITÉS!
Venez entendre la parole de Gahd ! Avec notre édition "Chère Matante", venez recevoir des conseils de vie des meilleures matante de Montréal. On ne garanti pas que les consiels soient bons... mais ils vont être drôles!
SHOW : 19h00 à 21h00
Invité.es
Chiquita Mere
Marla Deer
Billets > www.houseofgahd.com
Chaque édition comprend des apparitions miraculeuses de Gahd elle-même, ainsi qu'une sélection de certains de vos saints et pécheurs préférés de la ville et d'ailleurs !
Venez entendre Gahd se lever et prêcher tout ce qui lui passe par la tête, avec son Sermon sur la montagne (réel) !
Habillez-vous de vos plus beaux habits du vendredi soir et apportez un ventilateur car il va faire CHAUD,et ce sera HILARANT!
Gahd bless !
Uma Gahd présente une soirée de drague pécheresse, de variété céleste, de comédie tirée de sa propre Bonne Nouvelle, et la meilleure façon de nettoyer spirituellement votre palais avant ce qui sera sûrement un week-end pécheur !