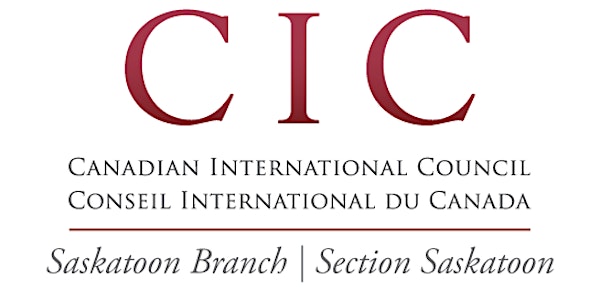 CIC #3 - Rethinking innovation: Beyond the Unicorn hunt
In CIC event #3, watch as Dr. Peter Phillips discusses strategies for successful innovation. Hint: it's not always the biggest and shiniest.
When and where
Location
Saskatoon Club 417 21st Street East Saskatoon, SK S7K 0C5 Canada
Refund Policy
Contact the organizer to request a refund.
Eventbrite's fee is nonrefundable.
About this event
The Saskatoon branch of the Canadian International Council invites you an event, free of charge and open to the public, on the following important international issue:
TOPIC: Rethinking innovation: Beyond the Unicorn hunt
SPEAKER:  Dr. Peter Phillips, Centre for the Study of Science and Innovation Policy
DATE:     Wednesday, October 5, 2022
PLACE:    Saskatoon Club, 417 21st Street East, Saskatoon
TIME:     8:00 p.m. - 9:30 p.m.
~~~ This is the third event of our 2022-23 program ~~~
[Come for the event, starts at 8:00 p.m.
Or, for more information, come to the dinner as well as the presentation. Read further below about  joining the speakers for dinner beforehand.]
Canada is one of the global leaders investing in technological innovation. We invest heavily in research into a range of technologies, assuming we have great opportunity to apply new innovations to our economy, our society and our environment. While we get a return on that investment, it is less than we forecast. The problem is that we are fixated on blockbuster innovations, the +$1 billion opportunities that the venture capital world calls 'unicorns.' There is much more we can and should do to generate benefits from our investments. This talk will explore the roots of our fixation on unicorns and offer a few alternative perspectives that might deliver more desirable outcomes.
About our speaker:
Dr. Phillips is Distinguished Professor of Policy and Founding Director of the Center for the Study of Science and Innovation Policy in the Johnson Shoyama Graduate School of Public Policy at the University of Saskatchewan. He earned his Ph.D. at the LSE and worked for 13 years as an economist in industry and government. Over the past 25 years he has held research chairs and professorial appointments in agricultural economics, business, political studies and now public policy and has had visiting appointments at the LSE, EUI, OECD, Chatham House and Universities of Edinburgh, Western Australia, and UTS Sydney. His research explores bioscience innovation policy related to global food security. He has won major peer-reviewed grants worth >$250M, is author/editor of 17 books, >75 articles and >70 chapters and serves as an expert advisor for firms and governments around the world. Phillips recently served as a member of the CCA Expert Panel on Plant Health in Canada and is currently on the Board of Directors of Genome Prairie and a member of the Expert Panel on Clean Growth with the Canadian Climate Institute.
Itinerary:
6:00 p.m. Doors open, pre-dinner chat
6:30 p.m. Dinner with the speaker (register online at the Eventbrite site, deadline Oct 03)
7:40 p.m. Doors open for public presentation
8:00 p.m. Public presentation - free and open to the public
9:30 p.m. Event concludes
 DINNER WITH THE SPEAKER:
Want to find out even more about the issues, and discuss them with the speaker and other internationalists? Consider buying a dinner ticket and joining us at 6:00 p.m., also at the Saskatoon Club, for dinner with the speaker.
Prices for dinner with the speaker, followed by presentation
$20 – Students
$35 – Non-student CIC members
$40 – Nonmembers
Register for dinner with the speaker before October 03, 4:00 p.m. Dinner registrants will be expected to pay even if they cannot or do not attend. Persons with dinner reservations who cannot attend are encouraged to find someone else to take their place.