Annual General Meeting 2022 of CIC Toronto section!
About this event
The Chemical Institute of Canada (CIC) Toronto Section is an organization that works to connect students and professionals from the chemical field (chemistry, chemical engineering, chemical technology) by offering events, initiatives and networking opportunities.
Come join us at our Annual General Meeting (AGM) to learn more about our section activities in the past year, such as Career Exploration Series, Career Fair, Public Outreach, etc. as well as how to get more involved with the chemical community.
We're looking for enthusiastic chemists, chemical engineers, and chemical technologists to help us build connections within the chemical community in the new year. If you are interested in joining our team, nominations are OPEN for our executive elections! Check out the below section for more information.
Besides that, you will not want to miss a special talk from our keynote speaker - Phil De Luna! Sharing his own career story of going from scientist, to almost-entrepreneur, to national lab director, to political candidate, and everything in between – Phil De Luna will describe how he used science and innovation as a platform for impact beyond academia. Phil will talk about his own life experiences and provide some advice on how to maximize opportunity in the early stages of a chemist's career.
The CIC Toronto will host our Annual General Meeting (AGM) virtually via Zoom on Thursday, Jan 20th, 2022 at 6:30 PM EST.
Agenda
1. Review of CIC Toronto section's activities over the last year
2. Review of CIC Toronto section's financials over the last year
3. Special talk from Phil De Luna, National Research Council of Canada's director / Cleantech Innovator / Forbes Top 30 Under 30 / TEDx Speaker
4. Elections for 2022-2023 executives
Elections
For the Elections, the following positions are open for nominations:
Chair (1)
Vice Chair (1)
Treasurer (1)
Secretary (1)
Communications Officer (3):
Academic Liaison (3):
Public Outreach Coordinator (3):
Internal Events Coordinator (3):
Industrial Liaison (3):
Government Liaison (3):
Executive at Large (3):
If you are interested in joining the executive team, send your nomination to chair@cictor.ca by Jan 19th 11:59 pm. Follow this link for more details about each role: https://docs.google.com/document/d/1B6XelqoTF1u0WwM2S_YehCcfpCygbAky/edit?usp=sharing&ouid=117370570369251280278&rtpof=true&sd=true.
About Phil De Luna
Phil De Luna is the youngest-ever director at the National Research Council where he leads a $57M Canada-made cleantech program. De Luna is a Governor General Gold Medal scientist, member of the Royal Society of Canada, and has published in high-impact journals like Science and Nature. He was a Carbon XPRIZE finalist, a Forbes Top 30 Under 30, and was a candidate for MP in the 2021 Federal election. He is deeply passionate about developing technology to fight climate change.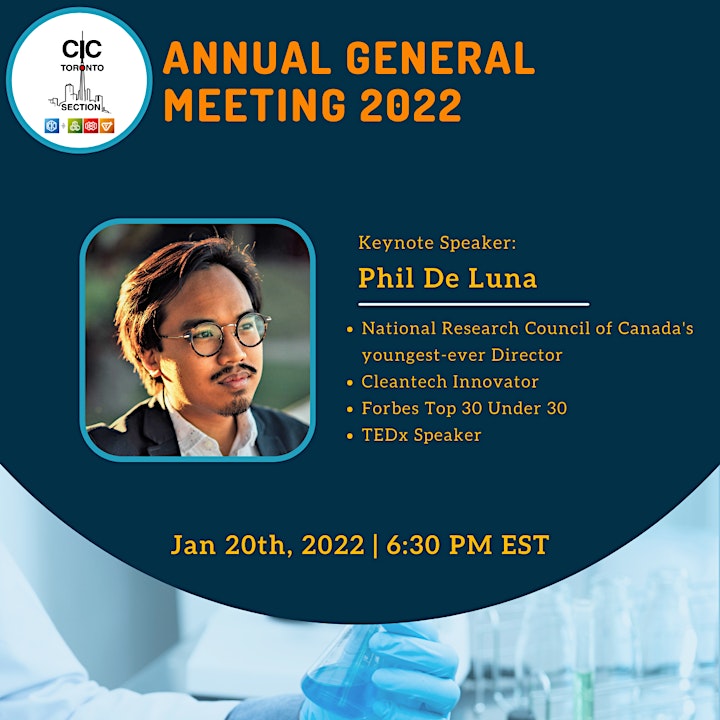 Organizer of CIC Toronto- Annual General Meeting 2022
The CIC Toronto Section connects its members, industry, and academia through vocation-related and networking events such as career fairs and industry plant tours. We also organize and sponsor many public outreach events like student awards night and science fairs. We are a branch of the non-for-profit organization the Chemical Institute of Canada. We also have seasonal updates posted in the ACCN (L'Actualité chimique canadienne) the Canadian Chemical News.