Description
Join us for the CIC Toronto Section's annual Career Fair hosted at the University of Toronto on April 26th, 2018. Aimed towards graduate students, postdocs and early career members in the chemical sciences, this event seeks to provide you with the skills and connections required to begin your career with confidence! Representatives from a variety of organizations ranging from local start-ups, not-for-profits, incubators, and multinational companies that span a wide range of fields and disciplines will be in attendance. Events include a panel discussion, talks, a booth session during lunch, a job searching strategy workshop, and round table discussions, all of which will provide the opportunity to network with fellow attendees and industry representatives.
A complete list of participating companies can be found here: http://cictorontosection.ca/event/career-fair-2018/
Several companies will be holding on-site interviews for currently available job positions, applicants must submit their relevant documents before April 20th at 11:59PM and selected candidates will be notified of their interview times prior to the career fair. Job postings and more information on the on-site interviews can be found here: http://cictorontosection.ca/job-postings-for-career-fair-2018/
The following Career Workshop is titled "Following Up In Your Career". Did you have a great, but brief meeting with someone, and you aren't sure when, why, or how to ask for more of their time? Have you submitted an application or interviewed and you want to boost your chances of getting the job? Bring your specific questions on the topic of following up, and we'll address them in this interactive sessions.
Schedule of events:
9:00 am – 9:30 am
Keynote speaker: Laura Reyes
9:30 am – 10:00 am
Keynote speaker: Melanie Mastronardi
10:00 am – 10:30 am
Panel Discussion (1)
10:30 am – 10:45 am
Coffee Break
10:45 am – 11:45 am
Workshop
11:45 am – 12:15 pm
Keynote speaker: Jan Oudenes
12:15 pm – 12:45 pm
Keynote speaker: Andrew Dicks, Jessica D'eon, Oriana Muzzin
12:45 pm – 2:00 pm
Networking Lunch and Booths
2:00 pm – 2: 30 pm
Panel Discussion (2)
2:30 pm – 4: 30 pm
Round-table Discussion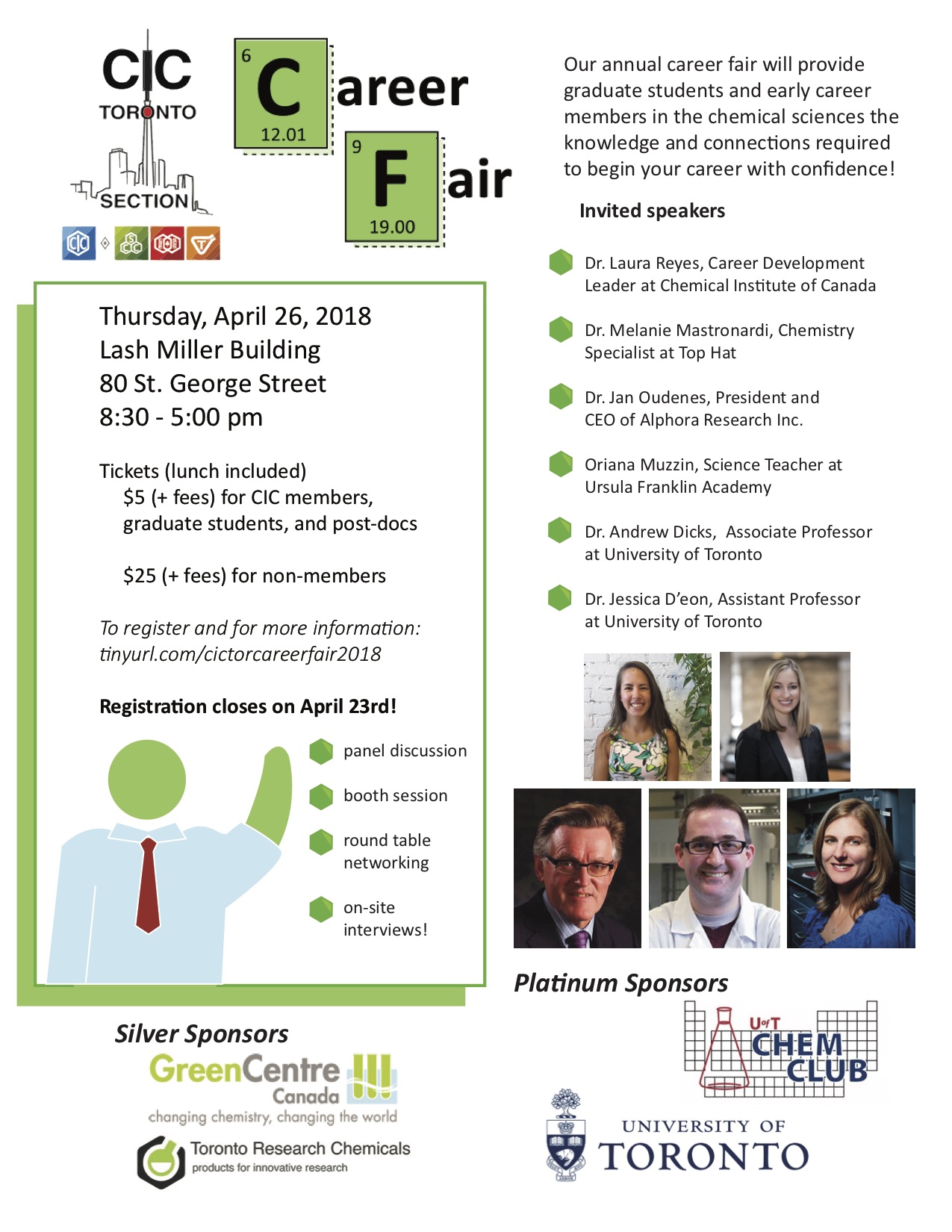 Organizer of CIC Toronto Section Career Fair 2018
The CIC Toronto Section connects its members, industry, and academia through vocation-related and networking events such as career fairs and industry plant tours. We also organize and sponsor many public outreach events like student awards night and science fairs. We are a branch of the non-for-profit organization the Chemical Institute of Canada. We also have seasonal updates posted in the ACCN (L'Actualité chimique canadienne) the Canadian Chemical News.