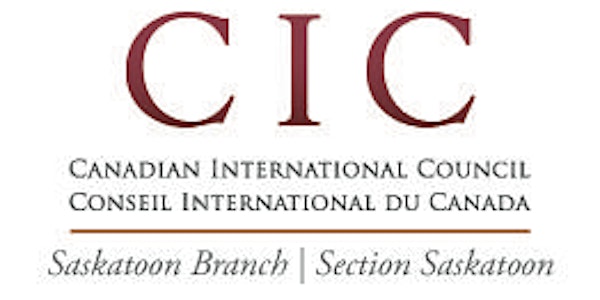 CIC#1 - Kjell Anderson, "The Dilemma of Dominic Ongwen: The Socialisation, Reintegration, and Criminal Culpability of Former Child Soldiers"
When and where
Location
Saskatoon Club 417 21st Street East Saskatoon, SK S7N 4J8 Canada
Refund Policy
Refunds up to 7 days before event
Description
NOTICE OF THE FIRST EVENT - 2017-2018 PROGRAMME
DATE: Wednesday, 20 September 2017
PLACE: Saskatoon Club, 417 21st Street East, Saskatoon
TIME: 8:00 p.m.- 9:30 p.m.
SPEAKER: Kjell Anderson
TOPIC: The Dilemma of Dominic Ongwen: The Socialisation, Reintegration, and Criminal Culpability of Former Child Soldiers
Two ways to register: [1] Public presentation, 8:00 pm – free; or
[2] Dinner with the speaker 6:00 pm, followed by presentation
$20 – Student Special
$25 – All other CIC members
$30 – Nonmembers
*** Registering for dinner (see below) - if Eventbrite is not responding properly, register for dinner by sending an email to saskatoon@theCIC.org before 4:00 pm on Monday, September 18. ***

How should we treat perpetrators of horrendous crimes when they themselves started out as victims?

Dominic Ongwen is a former child soldier with the Lord's Resistance Army (LRA) in Uganda, who is currently on trial at the International Criminal Court (ICC). Ongwen was abducted when he was around ten years old, and he rose steadily through the ranks of the LRA, one of the most brutal armed groups in the world. Although he was certainly a victim when he was first abducted as a child, he also showed personal initiative and went on to commit atrocities against civilians in northern Uganda.
The case of Ongwen poses vital questions for transitional justice, particularly, how can courts, which deal largely in binary categories of guilt and innocence, address situations where perpetrators are also victims?
This discussion will consider this question by drawing from interviews from those who were inside the LRA, to discuss the socialization of child soldiers – from violent initiation rituals to public punishments. It will also examine the impact of violence on perpetrators in the short and long-term: how does participation in violence alter perpetrator memory and self-identity?
A Saskatoon product, Kjell Anderson is a well-respected researcher in the field of genocide studies. An affiliated Research Fellow at the Center for International Criminal Justice in Amsterdam, Dr. Anderson has recently completed a research and teaching position on genocide and transitional justice at the Netherlands Institute for War, Holocaust, and Genocide Studies (NIOD). Dr Anderson has travelled to the locations of many war crimes of the 20th and 21 centuries, and has researched the Ongwen trial at the ICC, transitional justice and collective memory in Bangladesh, genocidal intent, and mass atrocities in Iraq. His forthcoming book "Perpetrating Genocide" draws from interviews with perpetrators in several countries to explain the perpetration of genocide https://goo.gl/aKwEwm"

Itinerary:
6:00 p.m. Doors open, pre-dinner chat
6:30 p.m. Dinner with the speaker (RSVP)
7:40 p.m. Doors open for public presentation
8:00 p.m, Speaker presentation - open to the public

Student Special: Students - if you are not yet a member of CIC, come to dinner with us, and pay $20 for your meal - then CIC-Saskatoon will pay for your membership for the next 12 months. Please complete a membership application (available on-site and online) before the end of the event, and we'll do the rest.
Registration for presentation and for dinner/presentation through the Eventbrite website.
If joining for dinner, payment by credit card (deadline: September 18, 4:00 p.m.). Dinner registrants will be expected to pay even if they cannot or do not attend. Persons with dinner reservations who cannot attend are encouraged to find someone else to take their place.