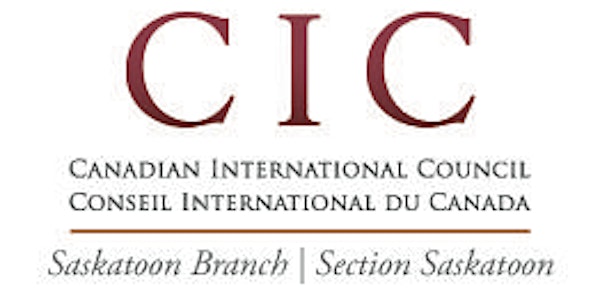 CIC#2 - Ken Coates, "The Front Lines of Reconciliation?: Global Perspectives on Indigenous Engagement with the Natural Resource Economy"
When and where
Location
Saskatoon Club 417 21st Street East Saskatoon, SK S7N 4J8 Canada
Refund Policy
Refunds up to 7 days before event
Description
NOTICE OF THE SECOND EVENT - 2017-2018 PROGRAMME
DATE: Monday, 16 October 2017
PLACE: Saskatoon Club, 417 21st Street East, Saskatoon
TIME: 8:00 p.m.- 9:30 p.m.
SPEAKER: Dr. Ken Coates
TOPIC: The Front Lines of Reconciliation?: Global Perspectives on Indigenous Engagement with the Natural Resource Economy
Two ways to register: [1] Public presentation, 8:00 pm – free; or
[2] Dinner with the speaker 6:00 pm, followed by presentation
$20 – Student Special
$25 – All other CIC members
$30 – Nonmembers
*** Registering for dinner (see below) - if Eventbrite is not responding properly, register for dinner by sending an email to saskatoon@theCIC.org before 4:00 pm on Friday, October 13. ***

CIC-Saskatoon presents the inimitable and entertaining Ken Coates as he sheds light on the conflict between respecting local populations and the development of natural resources. What have other nations done better? What lessons can Canada learn?
Indigenous concepts of territory and self-determination have long been in conflict with the national and international imperatives of resource development. This clash of expectations and aspirations is captured in the United Nations Declaration on the Rights of Indigenous Peoples, which speaks directly to the Indigenous demand that there be "free, prior and informed consent" before projects proceed on their lands. In some countries and with some companies, major transitions underway, with consultation and engagement with the resource companies resulting in financial compensation and substantial employment opportunities. This presentation reviews the state of Indigenous engagement in the natural resource economy, highlighting Canadian Indigenous and corporate developments. With Indigenous peoples seeking opportunities for both wealth creation and environmental control on their lands, the convergence of Indigenous aspirations and the development process have created opportunities for reconciliation and engagement.
Ken Coates is a rare public commentator who brings deep understanding of past and present realities together with compelling ideas about Canada's future. His passionate and highly engaging talks have captivated diverse audiences across the country, from college administrators and economic development officers to Aboriginal entrepreneurs and community activists. Ken is Canada's Research Chair in Regional Innovation and brings his experience in East Asia and around the Circumpolar world to bear on his understanding of Canada's strengths and weaknesses. Ken combines irreverence, insight and a sense of humour in his conversations about the issues that matter most to Canadians.
Itinerary:
6:00 p.m. Doors open, pre-dinner chat
6:30 p.m. Dinner with the speaker (RSVP)
7:40 p.m. Doors open for public presentation
8:00 p.m, Speaker presentation - open to the public

Student Special: Students - if you are not yet a member of CIC, come to dinner with us, and pay $20 for your meal - then CIC-Saskatoon will pay for your membership for the next 12 months. Please complete a membership application (available on-site and online) before the end of the event, and we'll do the rest.
Registration for presentation and for dinner/presentation through the Eventbrite website.
If joining for dinner, payment by credit card (deadline: October 13, 4:00 p.m.). Dinner registrants will be expected to pay even if they cannot or do not attend. Persons with dinner reservations who cannot attend are encouraged to find someone else to take their place.