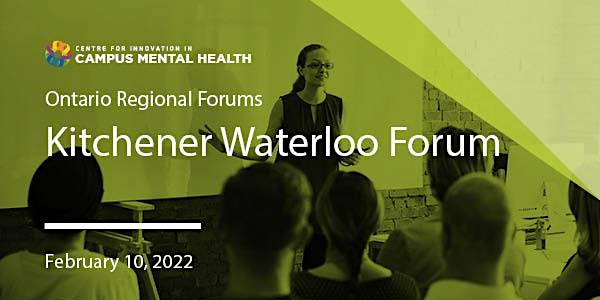 CICMH Kitchener Waterloo Region Virtual Forum
A virtual forum for campuses and community organizations in the Kitchener Waterloo area.
About this event
Given the ongoing COVID-19 pandemic, our 2022 regional forums will be virtual and held on Zoom.
The Kitchener Waterloo Region virtual forum is a half-day event that will take place between 9:00 am and 12:30 pm.
Our goal is to ensure that we continue to bring regional post-secondary institutions and community organizations together to highlight the great work being done. Campuses and organizations will also be able to discuss the changes they have made as a result of the COVID-19 pandemic. This forum will serve as an opportunity to seek and build connections and to facilitate networking.
ZOOM DETAILS TO BE E-MAILED TO REGISTRANTS
9:00 am Welcome, Land Acknowledgement and Introductions
9:30 am CICMH Overview
9:40 am Needs/Wants/Desires – Exercise instructions
9:50 am Break
10:05 am Workshop: Grief and loss during COVID-19
11:05 am Needs/Wants/Desires – Review of Issues
11:25 am Break
11:40 am Needs/Wants/Desires – Solutions
12:10 pm Wrap-Up and Stop/Start/Continue
Please note: This forum is for campuses and community organizations ONLY. Please only register using your official school e-mail or organization's e-mail.
If you have any questions at all about the new format or what will be covered in the virtual regional forums feel free to e-mail Anne at amazile@campusmentalhealth.ca