Description
CIM GTA WEST Branch is happy to announce that due to a conflict in scheduling for the Oct 19 Luncheon Meeting we will be Presenting:
Gregory James Romain, President & CEO of Gowest Gold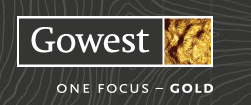 "Bradshaw Deposit: The Next Gold Mine in Timmins"
Gowest Gold Ltd. is a Canadian gold company focused on fast-tracking the development of its 100% owned, Bradshaw Gold Deposit ("Bradshaw") (formerly named Frankfield East), part of its North Timmins Gold Project (NTGP). Gowest is also exploring additional gold targets on the 110-square-kilometre NTGP land package it controls and continuing to evaluate acquisition targets in the vicinity of the Pipestone Fault area, part of the prolific Timmins, Ontario Gold Camp.
---
Gregory James Romain, President & CEO, Executive Director
Mr. Romain has been involved in the mining and mineral processing industry for over 25 years and has guided Gowest from being involved purely in exploration towards becoming a development and mining firm with producing assets. He has been the President and CEO since 2008 and has overseen the early stages of consolidation and transition.
Prior to Gowest, Mr. Romain was President and CEO of a Canadian manufacturing company that sold products exclusively to the global mining industry. Mr. Romain took that company public as an income trust in 2005 and, with the regulation changes to the income trust sector, sold the company to a private equity group in 2007.