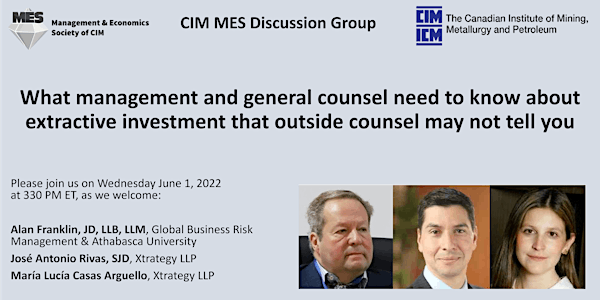 CIM MES Discussion Group: What Management and General Counsel Need to Know
Sales Have Ended
Registrations are closed
Thank you for your interest in the Management and Economics Society of CIM. Unfortunately, registration for this event is now closed. If you have already registered, your access link is available to you in your confirmatory email from Eventbrite.
MES invites you to attend a virtual meeting with speakers Alan Franklin, José Antonio Rivas and María Lucía Casas Arguello
About this event
"What Management and General Counsel Need to Know About Extractive Investment that Outside Counsel May Not Tell You"
The establishment of an extractive investment either in Canada or abroad requires many areas of due diligence to reduce risks. This must be done in a multi-disciplinary manner, including legal and political risk consulting.
These sessions will discuss this in the context of such issues as:
Corruption – what you need to know about the risks, and how to reduce this, including understanding the serious risks of failing to pay bribes resulting in licence cancellation, imprisonment of employees
International Investment Agreements that can protect the investment from wrongful actions of the government
Contractual terms to reduce risk
Human Rights Concerns – how to address them to ensure government support of your project
Political Risk – will the host state interfere with your project by expropriation, licence cancellation, restricting currency conversion or remittance to home state
Political Risk Insurance – will it help protect your investment – does the insurer bring risk protection as well as risk transference
Financing – does financing through a multilateral development bank such as World Bank, or regional development bank provide political risk protection
International Arbitration – why it matters to you and what you need to know about the process
About the Speakers
Alan Franklin, JD, LLB, LLM, is Managing Director of Global Business Risk Management (Vancouver and Toronto). He also develops and teaches courses on international business risk management for Executive MBA students at Athabasca University in Canada. Alan is a member of the Panel of Experts of the Canadian Centre of Excellence for Anticorruption at the University of Ottawa, as well as an active member of the Columbia University "Teaching Business and Human Rights Forum" and the Global Business and Human Rights Scholars Association.
José Antonio Rivas, SJD, is a Founding Partner of Xtrategy in Washington D.C. (2019) and Bogotá (2018), and Chair of the Arbitration and International Law practice at Xtrategy. Admitted to practice in the District of Columbia, United States, and the Republic of Colombia, he works as international counsel in investment disputes, serves as arbitrator, and provides advice in public international law and investment law to sovereign clients, state-owned companies, and investors.
María Lucía Casas Arguello is an Associate of Xtrategy's Arbitration and International Law practice in Bogota, specializing in domestic and international arbitration, and public international law. María Lucía is a lawyer from the Universidad del Rosario and has academic and professional experience in national and international arbitration, and strategic litigation.
Brought to you by:
MES of CIM (Canadian Institute of Mining, Metallurgy and Petroleum) serves members involved in the economics and management of mining, and all aspects of the management of companies active in the mining and petroleum sectors. MES has an educational mission, and to achieve this, MES hosts events that provide a forum for industry professionals to share experiences, insights and ideas on topics relating to the economic, management and financial aspects of the mining and energy business.