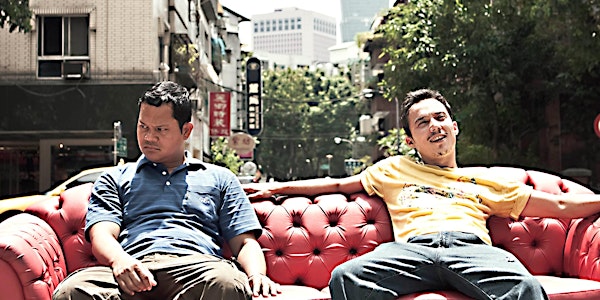 Cinematic Taiwan - Pinoy Sunday
When and where
Location
Annex 823 Seymour Street Vancouver, BC V6B 3L4 Canada
Refund Policy
Contact the organizer to request a refund.
Description
Sunday is precious.

In Taipei's Little Philippines, populated by migrant workers that put in six-day-weeks, Sunday is priceless. Sunday is filled with little diversions and simple pleasures - including the discovery of an abandoned, brand new couch on this particular Sunday... For Filipino migrant workers Manuel and Dado, returning to their dormitory with this prize would be a heroic feat - if they can make it before curfew! Miles away from home and with no means of transportation, the scene is set for this absurdist road movie where "irrational hope" and the "demons of cold, hard rationale" mutate, and one is soon indistinguishable from the other!
Co-presented with Vancouver International Film Festival.
一張沙發,兩個天兵,過了一個雞飛狗跳的…台北星期天!

每到星期天,馬諾奧、迪艾斯和兩人總是懷抱不同的期待,用力把工廠、門禁拋諸九霄雲外,直奔台北市中心。但這個星期天,馬諾奧和迪艾斯的美夢卻一個一個破碎。一張被遺棄在路邊的火紅沙發,勾起了兩人的目光。閉目想像這樣一張沙發放在宿舍的天台上,喝著冰涼的啤酒、看著天上的星星,這大概就是天堂了吧。就這樣,馬諾奧與迪艾斯這兩位天兵,一前一後,在這尋常的週日午後,扛起沙發,上山下海,一起穿過台北城市的大街小巷,展開一段爆笑連連,卻又萬般滋味的奇幻旅程。