Description
CIQS Congress 2018 – Halifax, NS
CIQS Congress 2018 will be hosted by the CIQS – Maritimes Affiliate in Halifax, NS on July 19 – 22, 2018 at the Delta Halifax.
The theme of the CIQS Congress 2018 is Building the Maritimes – Where Tradition Meets Innovation.

We look forward to welcoming you and your guests in Halifax!
If you have any questions please do not hesitate to contact Sheila Lennon at info@ciqs.org.

Venue & Location
CIQS – Maritimes has selected Delta Halifax to host the CIQS Congress 2018. Centrally located in downtown Halifax, the hotel features mesmerizing views of the harbour and offers convenient access to the city's top attractions.


Hotel Group Rates
Group rates are available 3 days pre and post based on availability. Book a room.


New Congress Bursary Program
David Lai Young Quantity Surveyor Congress Bursary Program

In recognition of the volunteer contributions of David Lai, PQS(F) over the past 10 years and his invaluable work on the Education portfolio, CIQS is pleased to announce the establishment of the David Lai Young Quantity Surveyor (YQS) Congress Bursary Program.

The bursary program will provide funding for one YQS from each Affiliate region in Canada to attend Congress. Please see the program application guidelines for full details and requirements.

Preliminary Program
Click the register button above to pick and choose the desired events and sessions.


Registration Deadline: Extended to Monday, July 9, 2018.
Cancellation Policy: We understand that plans/people change. Registrations may be transferred to another person, at no cost, prior to Friday, July 6, 2018. Full registration, refund minus a $50 administration fee, will be given until Monday June 18, 2018. No refunds will be issued after Monday, June 18, 2018.

Sponsorship Opportunities
Your esteemed support in making this celebration a timeless event is most welcomed and appreciated. We are honoured to be associated with such generous members and friends!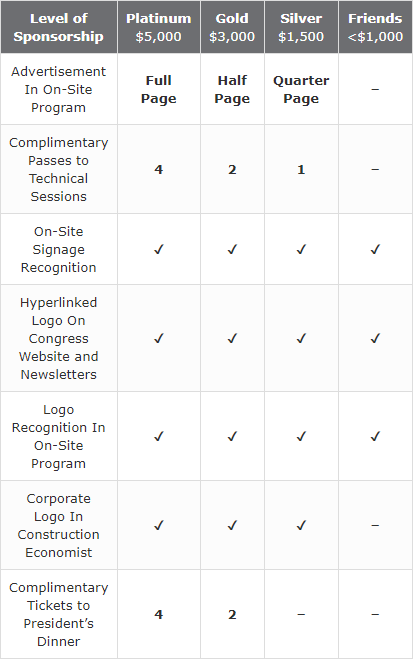 For sponsorship information, please contact Sheila Lennon at info@ciqs.org.