Location
St. Jacobs Baseball Diamond Outfield
3 Water Street
St. Jacobs, ON N0B 2N0
Canada
An all-ages experience creating some astonishing and beautiful music landscapes. All levels of music experience and all ages welcome.
About this event
Before computers, iPhones, and tablets that made complex music-making accessible to those without formal lessons, cultures all over the world developed instruments that would create beautiful music with a simple touch or light hit on a surface.
Handpans, tong drums, and the many different forms of thumb pianos (sometimes referred to as "kalimbas") are some of these "instant music" instruments. (We will have others as well). With these instruments, and along with some friendly facilitation by Gerard Yun and Allen Magama, we will create some astonishing and beautiful music landscapes whilst providing us an opportunity to appreciate their historical and cultural significance.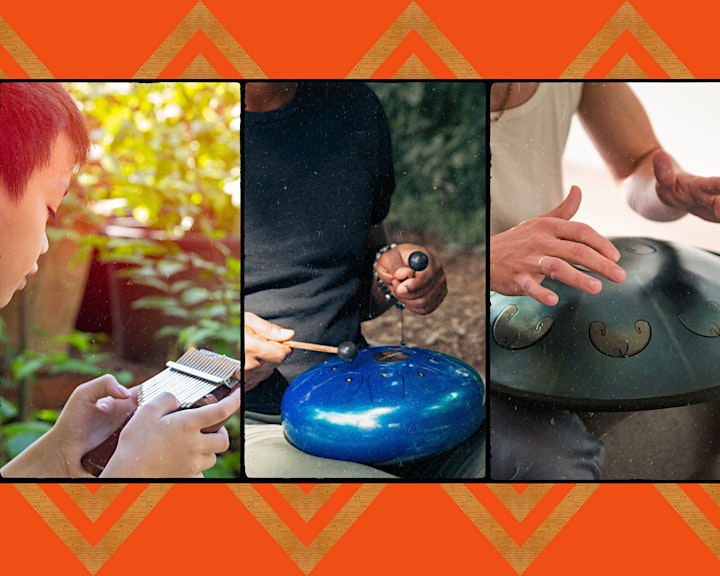 Children and adults of all ages are welcome and no experience is necessary!
We invite people of all ages and abilities to join us in creating Circles of Music where together we will be making real music in real time together without extensive instructions or lessons. Instead, we work together, moving from instrument to instrument, helping one another to contribute to the whole while building something beautiful, fun, and inspiring together.
This is an intergenerational music circle.
This workshop is hosted in part by "Bring on the Sunshine"
All That Worldly Jazz Festival is being held in the Baseball Diamond Outfield, behind the Firestation in St Jacobs. Head to the FREE PARKING lot at the corner of Albert Street East and Water Street in St Jacobs and you'll see the festival on the south side. (See map below)
This event is entirely free.
September 17 - 19, 3 to 9 pm.
Gates open at 2:30 daily