Location
St. Jacobs Baseball Diamond Outfield
3 Water Street
St. Jacobs, ON N0B 2N0
Canada
Make magic happen at the African drumming session with Alison Feuerwerker. Children and adults of all ages are welcome!
About this event
Neruda Arts is very excited to bring Alison Feuerwerker's Circle of Sound to All That Worldly Jazz Festival . Alison is a talented local musician and artist. She has participated in Kultrun World Music Festival with an astonishing drum circle workshop. Now, she will be part of our All That Worldly Jazz Festival this September 17-19. Visit our website at nerudaarts.ca for festival details.
During this hour-long interactive workshop we will explore elements of music including beat, tempo, volume, and ensemble playing. We will play rhythm games and learn some rhythms together. We will sharpen our listening skills. And we will have a wonderful time!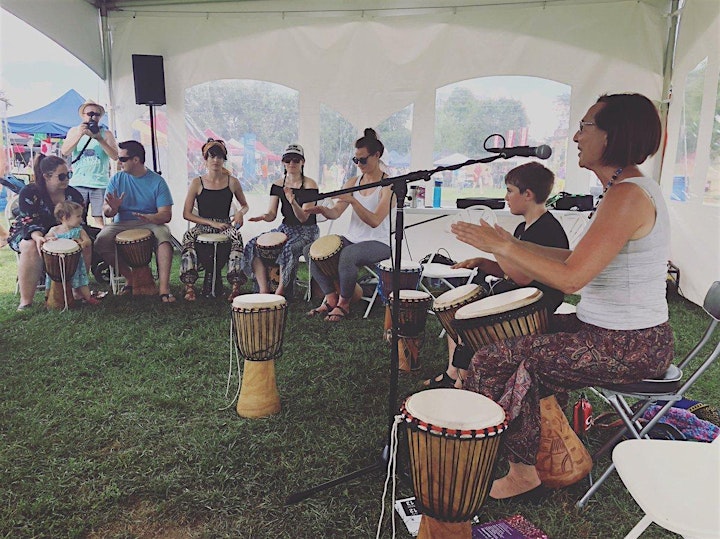 Children and adults of all ages are welcome and no experience is necessary!
We will have drums available or you can bring your own drum or percussion instrument.
When we drum together, magic happens!
All That Worldly Jazz Festival is being held in the Baseball Diamond Outfield, behind the Firestation in St Jacobs. Head to the FREE PARKING lot at the corner of Albert Street East and Water Street in St Jacobs and you'll see the festival on the south side. (See map below)
This event is entirely free in person or online.
September 17 - 19, 3 to 9 pm.
GATES OPEN: Friday at 3:30 pm; Saturday at 2:30 pm; Sunday at 2:30 pm