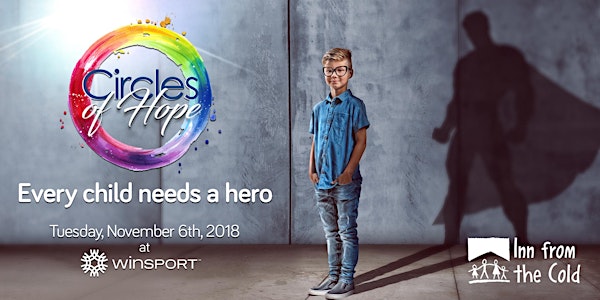 Circles of Hope - Every child needs a hero
When and where
Location
WinSport 88 Canada Olympic Road Southwest Multi-Purpose Room, 2nd Floor, Markin MacPhail Centre Calgary, AB T3B 5R5 Canada
Refund Policy
Contact the organizer to request a refund.
Description
Circles of Hope is back! This year, we are exploring the topic, 'Every child needs a hero'. The second annual Circles of Hope will explore the first 18 years of life. A child's development lays the groundwork on the people we will be, and the adults in children's lives play a large role in shaping identity. Positive adult relationships have the power to inspire, build resiliency, and promote healthy development mentally, physically, emotionally and psychologically. Join us as we discuss how we can empower the next generation and ultimately create a brighter future for everyone.

This year, we will have one of our nation's childhood development experts, an individual whose resiliency allowed them to overcome childhood trauma and the head of one of our nation's leading child health non-profits.

We have incredible speakers lined up for this year's event. Speakers and performers include:

Tammy Schamuhn, Registered Psychologist and Play Therapist, Founder and Executive Director of Family Counselling Centres. Tammy's expertise in family psychology has allowed her to positively impact thousands and has fostered incredible self-fulfillment in every client she assists.

Sara Austin, CEO of Sheldon Kennedy and Child Advocacy Centre and Founder of Children's First Canada. Sara is one of Canada's most powerful women, leading the charge to help drive positive change in our country. Sara has spent a lifetime advocating for children and children's health, her industry expertise is invaluable and her work is truly revolutionary.

Connie Jakab and Dance Crew, who will be performing an incredible number on overcoming adversity and uplifting others.

Tapisa Kilibuk, Indigenous Strategy Advisor & Community Liaison at Inn from the Cold. Tapisa has experienced the intergeneration cycle of trauma and has dedicated her life to understanding the effects of trauma on development and uses it to guide her work with families at Inn from the Cold.

More speakers and presenters to be announced over the upcoming days!

Join us as we discover why 'Every child needs a hero' and how you can be the hero every child deserves.
Circles of Hope was created in 2017 as a way to celebrate Inn from the Cold's 20th anniversary in a way that gave back to the community. Circles of Hope is focused on building a collaborative community through education and inspiration. With a wide variety of speakers who are industry experts, innovative researchers, people with lived experience of homeless, community leaders and many more. All with the purpose of sharing knowledge and stories to provide the highest quality of care to vulnerable populations.