About this Event
This December 31st, Hôtel Nelligan presents
CIRQUE
Make the world go round this New Year's Eve!
Come and enjoy an unforgettable evening of extravagant showstopping spectacles, where the circus comes alive. Delicious and eclectic food stations await you with three cocktails per person until midnight. Don't forget to wear your most eccentric attire, it's a date!
When? Join us on December 31st at 9pm.
Tickets are $180 (taxes & service included).
*Note that we adore animals, but there won't be any at the party for ethical reasons :)
BAR
Signature cocktail
Salty popcorn
Cash & carry bar
MENU
Le chapiteau Station
3 choices of salad:
Shrimp, endive and radicchio with blood orange vinaigrette
Sliced duck breast, apples, iceberg, nuts and citrus
Classic Caesar, bacon, parmesan, anchovies and croutons
****
La voyante et le fakir Station
Waygu beef burger
Vegetarian deluxe burger
Gaspé Peninsula style lobster roll
Quebec style vegetarien roll
Local and imported cheese
****
Le cracheur de feu et le jongleur d'assiettes Station
Beef rib steak and Tomahawk
Flambé lobster and shrimps with Jack Daniels, Pastis or Vodka
Yukon potato and cheddar mash
Seasonal confit vegetables
Montreal smoked meat poutine
****
Le magicien Station
Foie gras parfait with canellé cake
Foie gras cigar, cacao and poached pears
Foie gras torchon, fig chutney
****
Le funambule Station
Sweet multicoloured popcorn mini bags
The decadent table: mini cup cakes, varieties of candies, macarons, marshmallows
Candy bar
****
Nespresso Station
Coffee & Tea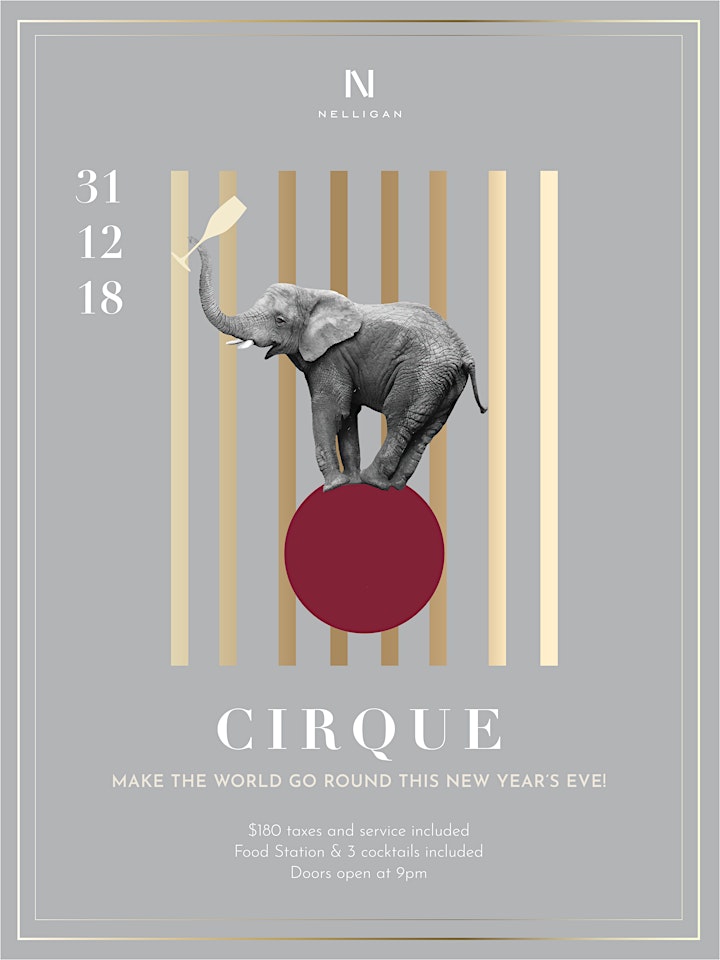 Ce 31 décembre, l'Hôtel Nelligan présente
CIRQUE
C'est le monde à l'envers en ce nouvel an!
Venez festoyer pour une soirée mémorable où le cirque prend vie avec des spectacles incroyablement extravagants. Des stations de nourriture délicieuses et éclectiques vous attendent avec trois cocktails par personne jusqu'à minuit. N'oubliez pas d'enfiler votre habit le plus excentrique, c'est un rendez-vous!
Quand? Rendez-vous le 31 décembre à 21h.
Les billets sont 180$ (taxes et service inclus).
*Notez que nous adorons les animaux, mais il n'y en aura pas à la soirée pour des raisons éthiques :)
BAR
Cocktail signature
Popcorn salé
Bar cash & carry
***
MENU
Station Le chapiteau
3 choix de salade:
Crevettes, endives et radicchio avec vinaigrette à l'orange sanguine
Magret de canard, iceberg, pommes, noix et agrumes
César classique, bacon, parmesan, croûtons et anchois
***
Station La voyante et le fakir
Burger de bœuf Wagyu
Burger végétarien deluxe
Guédille au homard de Gaspésie
Guédille végétarienne du Québec
Fromages d'ici et d'ailleurs
***
Station Le cracheur de feu et le jongleur d'assiettes
Côtes de bœuf et Tomahawks
Crevettes et Homard flambés au Jack Daniels, Pastis ou Vodka
Purée de pommes de terre du Yukon au cheddar
Légumes de saison confits
Poutine à la viande fumée de Montréal
***
Station Le magicien
Parfait de foie gras et Canellé
Cigare de foie gras, cacao et poire confite
Foie gras au torchon et chutney de figues
***
Station Le funambule
Sachets de popcorn sucrés multicolores
Table décadente: Bonbons, mini cup cakes, mini macarons, guimauves
Bar à bonbons
***
Station Nespresso
Café & thé