CITE Luncheon: Business Model Innovation for Financing of Metropolitan-Scale Passenger Rail

Thursday, 10 November 2016 from 11:30 AM to 1:30 PM (EST)
Event Details
Business Model Innovation for Financing of Metropolitan-Scale Passenger Rail
The usual financing model for the development and operation of major transit service relies upon federal and provincial transfer payments, municipal property tax increases, and passenger fares. But Moose Consortium is developing a 400 km metropolitan passenger rail system that relies upon none of those.
The "Property-Powered Rail: Open Market Development Model" introduces a "platform business" in which:

Each station is owned by a "Common Elements Freehold Condominium Corporation" ("immeuble en copropriété de titre franc pour parties communes")

Individual stations can be private or public sector; profit-oriented or not-for-profit;

An independent authority on real property value is relied upon, with appropriate transparency and peer review, to statistically attribute the "option value" increment in average actual property asset and income values within an easy walk of the station (0.8 km), due to the provision of train service;

Each station can subscribe to the train service in exchange for a fee expressed as a proportion of that average marginal increment in auditable asset and income values;

The monthly subscription fee for train service, plus the total costs of the developing and operating the station, together establish the aggregate amount that the Common Elements Freehold Condominium Corporation shall collect from the participating units.
Moose Consortium Inc. (Mobility Ottawa-Outaouais: Systems & Enterprises) will explain why and how this model is being implemented throughout Canada's Greater National Capital Region, and will illustrate some of the surprising ways this approach improves the entire incentive structure around transit, with practical examples from the domain of health and safety.
Joseph Potvin; Director General, Moose Consortium Inc., has worked for 30 years nationally and internationally as an applied economist in various domains, including six divisions of the World Bank, five section of the International Development Research Centre and multiple projects the former Canadian International Development Agency. He served as a staff economist on the core drafting team of Canada's first Green Plan in 1990, and from 2006 to 2012 he worked at Treasury Board Secretariat. Aside from Moose Consortium Inc. his recent clients include a European-based Fortune 500 company, as well as one of the longest-established Kanata-base fintech companies, which he represents in meetings of the US Federal Reserve. Separately from his role with Moose Consortium Inc. Potvin is Executive Director the commercially funded not-for-profit Xalgorithms Foundation which is developing software components to extend certain e-commerce functions of the Internet. 
Dr. Bill Pomfret; MSc; FIOSH; RSP; FRSH. Director, Health & Safety, Moose Consortium Inc.
Through many decades leading Safety Projects International Inc. of Kanata, Bill is a leading global authority on health and safety management, having served for four decades as a safety auditor, trainer and expert witness in over 50 countries. He has developed and implemented many Occupational Health & Safety models and has taught practices and procedures at McGill University, Montreal, in addition to being a visiting Professor at a dozen Universities around the world. He was the Executive Vice President of the World Safety Organization from 1975 to 1997, and was inducted to the International Hall Of Fame in 1998. He served on the investigation teams following the Ocean Ranger, Bhopal, Valdez and Deepwater Horizon disasters. In a design, planning and coaching role Pomfret designed and developed the Internationally acclaimed "5 Star Health and Safety Management System™" in 1978, and jointly co-ordinated the original health and safety management plan for Hong Kong's private sector metropolitan railway MTR. In 2015 Bill received an award from South Africa for his long-standing contributions to health and safety in that country's mining industry. In the Moose Consortium he coaches all directors and participating company managers in health and safety management, in alignment with national and global standards. 
---
Students can receive a 50% discount on the price of the luncheon by requesting a free student membership with the CITE NCS:  https://www.eventbrite.ca/e/cite-2016-national-capital-section-membership-tickets-21035843775
---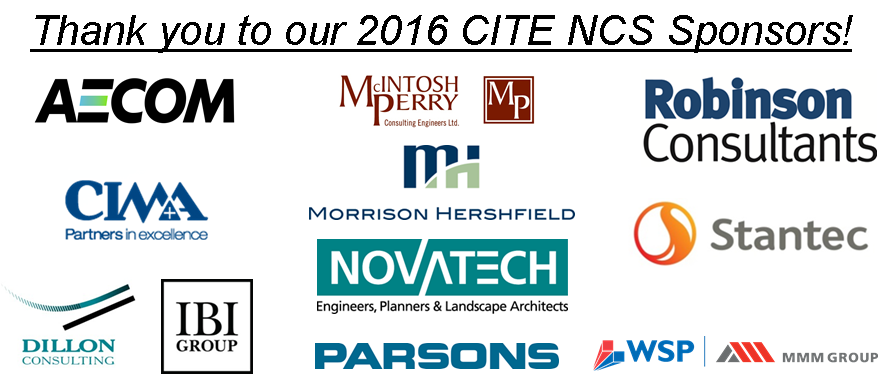 Have questions about CITE Luncheon: Business Model Innovation for Financing of Metropolitan-Scale Passenger Rail?
Contact CITE NCS Executive
When & Where

ARC The Hotel
140 Slater Street
Ottawa, ON K1P 5H6
Canada

Thursday, 10 November 2016 from 11:30 AM to 1:30 PM (EST)
Add to my calendar
Organizer
Note: As of 2019, the local CITE NCS memberships will no longer be available for purchase. However, all registered ITE members who have renewed their membership for 2019 are eligible to receive a discount. If you are a full ITE member and renewed your membership for 2019, please e-mail your membership renewal confirmation to nationalcapital@cite7.org and we will create a personalized discount code for you.