Salute the dedication required to reach industry's highest level of Logistics professionalism—the CCLP designation
About this event
No other professional credential says "expert" as decisively as CCLP.
After a 16 month postponement due to the COVID 19 pandemic, CITT's Manitoba Area Council & Bison Transport invites you to join us in celebrating our 2020 and 2021 Newly Certified Members, as they receive their CCLP designations on Friday, October 15th. Also honoured will be the winners of the Walter Kenneth Morris Memorial Scholarship and the Darren Christle Innovation Scholarship Award. We would like to thank the premier sponsor of this event, Bison Transport.
Keynote Speaker: Brian Ross, Vice-President Sales & Marketing, Gardewine Group will be speaking on be "Be Tuned In to the World around You and You Might Be Surprised Where It Leads You".
This year's event is, once again, being held at the Victoria Inn, 1808 Wellington Avenue, Winnipeg, MB, in the Centennial 10 Ballroom. Cocktails will begin at 6:00pm with dinner to follow at 7:00pm. All attendees will require vaccination cards to enter (electronic or actual card). Masks will depend on Provincial Health restrictions at the time.
Ticket prices are:
• Individual: $70.00 + GST per person.
• Table Sponsorship: $480 + GST (6 Tickets)
• Program Sponsor: $260 + GST (2 Tickets)
• Program Sponsor: $130 + GST
2020 New Members
Adewale Isafiade – Applied Industrial Technologies
Philippe Jolicoeur – Winnipeg School Division
Jennifer Mlodzinski – Princess Auto
Grant Nicholson – Decor Cabinets Ltd.
Viorel Oros – Canada Post
Julie St. Jacques – Manitoba Hydro
2021 New Members
Taiwo Ojo - Canada Post
Oluwasunkanmi Olatoye - Gardewine Group Inc.
Daniel Penner - Castanea Transport
Randolf Reboja - Interprovincial Cooperative
Jody Reimer - Cabela's Canada
Esnart Shepande - Canadian National Railway
Victoria Stoyanov - Congebec
Richard Verrier - Cabela's Canada
You'll remember that earning your designation from CITT was a significant accomplishment in your life. And it's a career milestone that we should all recognize and celebrate—together. Salute the dedication required to reach industry's highest level of professionalism—the CCLP designation—and recognize their desire to increase their level of expertise. By completing the challenging Program of Study and by proving their value to their organizations day after day, they have now earned the right to call themselves CITT- certified professionals.
This event will offer attendees the opportunity to network with other professionals and to renew old friendships. Don't miss this chance to network with some of industry's best. Come to our Annual Dinner and CCLP Certification Celebrations and meet a diverse and influential group of professionals and start cultivating your own network of industry contacts. We sincerely hope you will be able to join your peers in the CITT community at this celebration.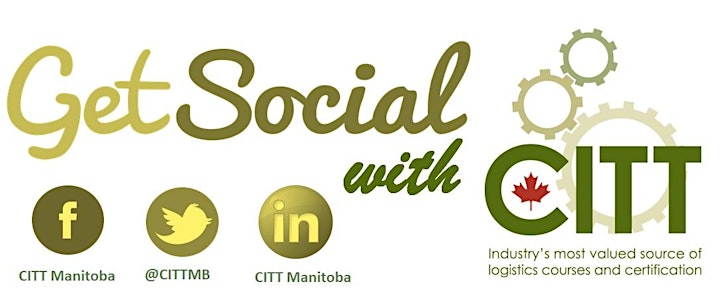 Organizer of CITT Manitoba Annual Dinner and New CCLP Member Celebrations