About this Event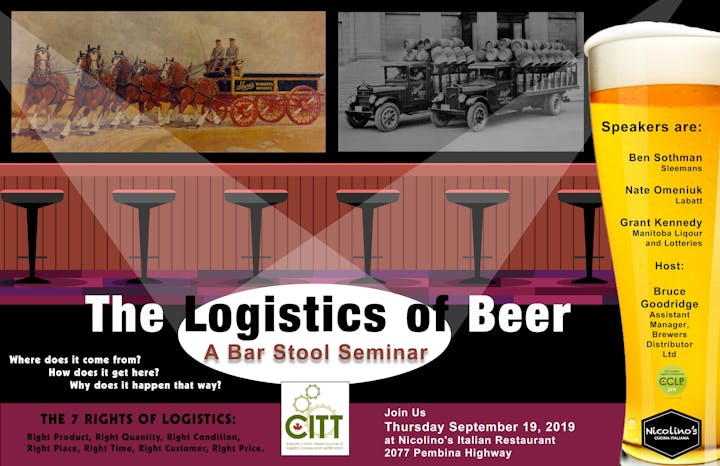 CITT's Manitoba Area Council is proud to present a Bar Stool Seminar on the Logistics of Beer. Ticket Price includes 2 Beers and an assortment of housemade appetizers.
Members & Students - $20.00 plus taxes & service fees
Guests - $30.00 plus taxes & service fees
From production to consumption, follow the journey of beer through a story that demonstrates many of the usual supply chain challenges in addition to the management of the reverse logistics component that is uniquely and historically part of the brewing industry. The story of beer is a saga of a market forever responding to the influence of politics, regulatory change, and pressure on demand from various forces both internal and external. Today, once again, the regulators and politicians are rattling the sabers of change while a myriad of non-beer alcohol beverage offerings explode onto the market at the same time that the craft beer industry continues to establish inroads of flavor and the favor of consumers.
In response to and in anticipation of consumer preference, Brewers continue to put forth an ever increasing number of skus with variations in taste, pack size and promotions. At the same time, the logistical challenges that have been faced by producers since John Molson brewed his first batch for commercial distribution in 1786, continue to be faced by modern brewers. Navigating the seemingly straight forward mixture of water, malt, yeast and hops through the obstacle course that puts a nice cold one in the hands of the people can be a bumpy ride. What does that ride look like from the perspective of the professionals with a vested interest in the assurance that beer is always steered in the right direction?
Join the CITT and our colleagues as this perspective is shared with us by the warehouse, distribution, sales, marketing and retail professionals that are consumed by the business of beer as they control or conversely are subject to the influences of, the logistics of beer.