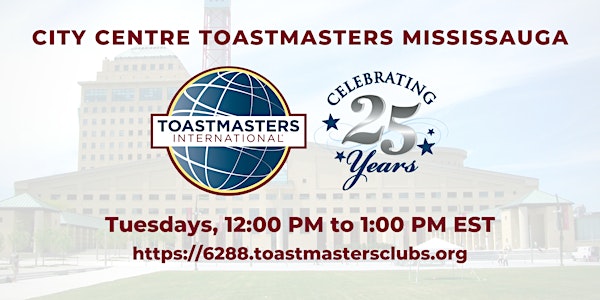 Multiple dates
City Centre Toastmasters Club (Mississauga) [online]
We are a friendly & welcoming club that gives you a great opportunity to increase your confidence & improve your public speaking skills
By City Centre Toastmasters Club Mississauga, Ontario
When and where
Date and time
Tue, Jun 23, 2020 9:00 AM - Tue, Jun 27, 2023 10:00 AM PDT
About this event
City Centre Toastmasters' meetings have gone VIRTUAL due to the ongoing corona virus crisis until further notice.
When you are ready to take the next step to develop your communication and leadership skills, we invite you to join us as a guest by connecting to our virtual meeting on every Tuesday at 11:50 AM! Please join our meeting from your computer, tablet or smartphone.
Zoom Meeting link: http://bit.ly/citycentrespeaking
OFFICIAL SITE:
https://city.toastmastersclubs.org/ or
https://6288.toastmastersclubs.org/
Our meetings provide the opportunity to practice and develop public speaking skills and leadership qualities in a friendly and constructive environment while receiving effective feedback.
If you are interested and would like to know more, you are welcome to attend our virtual meetings as a guest to check out the experience for yourself!
Just show up on any Tuesday that fits your schedule and we'll be happy to talk to you. We hope to see you at our next virtual meeting!
*Note, we may take photographs or videos during our meetings for promotional purposes. You may turn off the video if you prefer to not appear in the images.