Celebrating 5 years of City MOGULS. Get ready to connect virtually with entrepreneurs and leaders from across all different industries.
About this Event
2020 might not have gone as planned, but there is plenty to celebrate! Join the City MOGULS community for our final hoorah of 2020 as we raise our glasses to five years of City MOGULS. We've got lots in store for you! From a pitch competition, holiday-themed contests and giveaways, virtual networking, inspirational speakers and entertainment, you will not want to miss out on this celebration.
Whether this is your first City MOGULS experience or you're in the double digits with us, let's come together to celebrate this inspiring community of giving and empowered leaders.
While the event is free, consider making a small donation to our charity partner, Covenant House Toronto to support at-risk and homeless youth this holiday season. If you aren't able to make a donation, consider donating your time through the City MOGULS mentorship program.
Holiday Themed Contests
Ugly Holiday -Themed Outfit Contest
Best Holiday -Themed Virtual Background
MOGULS IN THE MAKING:
City MOGULS' first ever Startup Pitch Competition
Do you have what it takes to present who you are and your business to members of the community in an elevator style pitch? City MOGULS brings you a pitch competition exclusively for start up entrepreneurs. A fun and interactive way where entrepreneurs showcase their companies to get valuable feedback and a chance to win great prizes.
Apply Now to pitch LIVE in front of a virtual audience and an expert panel of MOGULS. Judges will provide real-time feedback and advice on your business, and share tips to help grow and drive your business forward.
Winners will be determined by our expert panel of MOGULS.
Pitch Requirements:
This opportunity is exclusively for early-stage entrepreneurs (0 - 5 years in business)
Must be the founder of a business
Business must have a social impact component and/or be a social enterprise
Current MOGUL Members are eligible to apply and prize will be an add-on to current membership
Be willing to potentially pitch live on camera at our Holiday Soiree
*Please note that only 6 applicants will be selected to pitch live at the Holiday Soiree*
Prizes include:
1st: A $500 MOGUL Grant and 1-year MOGUL Membership (Value: $1500)
2nd: A 1-year MOGUL Membership (Value: $1000)
3rd: A 6-month MOGUL Membership (Value: $500)
DEADLINE TO APPLY: December 11th, 11:59pm EDT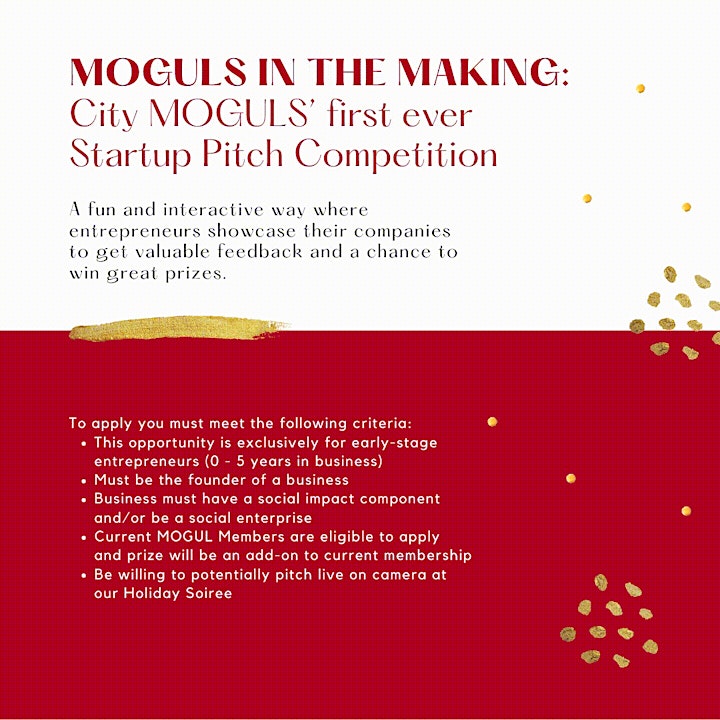 Meet the MOGULS Judging the Pitch Competition:
Michael Hyatt
Michael Hyatt is a serial entrepreneur and technology visionary that built two highly successful software companies, which he sold for $500 million dollars. Today, Michael ranks as one of Canada's top entrepreneurs, is a weekly business commentator the CBC and was a celebrated "Dragon" on CBC's online Dragons' Den.
Michael is a Founding Partner and Fellow at the Rotman School of Management's prestigious Creative Destruction Lab, and on the CEO Board of Advisors at Georgian Partners, one of Canada's leading venture capital firms. Michael was a finalist for Ernst & Young's Entrepreneur of the Year Award; and was a recipient of the Top 40 Under 40 Award.
Eva Lau
Eva Lau is a well-respected entrepreneur-turned-investor and one of the few women leading a venture fund in Canada. She is the Founding Partner of Two Small Fish Ventures, a venture fund that invests globally in early-stage, transformative tech companies with strong network effects. Prior to that, she was Wattpad's employee #1 and Head of Community and Content. She helped nurture and scale the Wattpad community from its infancy to become one of the largest online communities with tens of millions of monthly users around the world.
Iman Bashir
Iman Bashir is a disruptive entrepreneur and full-stack developer with a strong passion for crafting visual identities. In addition to founding an autonomous transcription company, Iman has collaborated on a number of successful tech ventures including Western Universities Women in Leadership Organization, co producing Elevate Tech Festival in its inaugural year, and now her very own full-service interactive agency based out of Toronto. Be it billion dollar brands or startups, Iman architects technology solutions and innovative digital marketing strategies that help clients find a way to think beyond ordinary.
About City MOGULS
We are a platform that celebrates, educates, and connects innovative entrepreneurs to inspire great leaders. We provide opportunities for entrepreneurs and like-minded go getters to connect, grow, support one another and give back to their communities. By bringing great minds together through engaging, entertaining and educational experiences, we are connecting entrepreneurs to grow their minds and networks to build empowered communities.
Are you an entrepreneur? Join us! Learn about ways you can get involved: https://www.citymoguls.com/