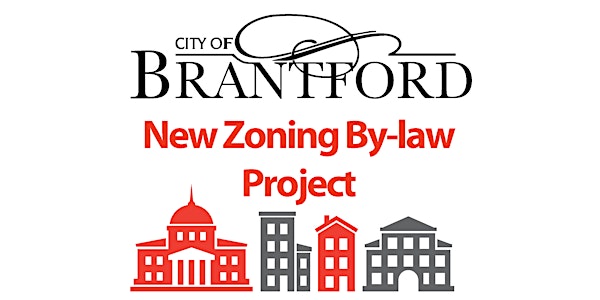 City of Brantford, New Zoning By-law Project
The City of Brantford is updating it's Zoning By-law. Join us for one or more of four virtual meetings or join in person to learn more!
About this event
About this event
The City of Brantford's New Zoning By-law Project is focused on establishing a new Zoning By-law that is in conformity with the City's Official Plan - Envisioning our City: 2051, Provincial policies and emerging best practices. The new Zoning By-law will regulate all lands within the City of Brantford, including the boundary adjustment lands formerly within the County of Brant. It will contain specific requirements for parcels of land including, for example, permitted uses, building height and setbacks, and parking requirements.
To inform the format and content of the new Zoning By-law, a series of background Discussion Papers has been prepared. The Discussion Papers and a Summary Report are available for review on the City's website at www.brantford.ca/NewZBLProject
Virtual and in-person Public Information Centres are planned to present the Discussion Papers and seek input from the public and stakeholders.
Wednesday, June 8, 2022
Virtual meetings (online via Zoom or by telephone)
Join us for one or more of the topic focused virtual meetings:
12:00 – 1:00 pm Parking
1:30 – 2:30 pm Residential and Mixed-Use Zones
3:00 – 4:00 pm Employment and Institutional Zones
4:30 – 5:30 pm Parks, Open Space, Natural Heritage and Agricultural Zones
Registration is required to attend the virtual meetings. The Zoom links and call-in details will be sent the day of the virtual meetings.
Thursday, June 16, 2022
In-person meeting
6:00 - 8:00 pm
Presentation at 6:00 pm, followed by topic focused discussion groups
Location:
Council Chambers,
Brantford City Hall
58 Dalhousie Street
Registration is not required to attend the in-person meeting.
For more information please contact:
Victoria Coates, Senior Planner, Long Range Planning
519-759-4150, ext. 5712 or vcoates@brantford.ca