City of Kitchener Outdoor Movie Night at Steckle Farm
Welcome to the City of Kitchener Movie Night, presented by Kitchener Utilities
About this event
The City of Kitchener is hosting free Outdoor Movie Nights at Steckle Farm, presented by Kitchener Utilities. Guests must pre-register for an outdoor seating area called a "pod". Each pod will be physically distanced with a maximum capacity of 5 people (exceptions possible for larger households). Please bring your own seating (lawn chairs, blankets, etc.) and know that there is a slight incline to the grass seating area.
July schedule:
Thursday, July 15, 22 and 29, gates open at 8:30 p.m. and movie will begin at dusk (approx. 9:15 p.m.).
July movie: "Charlotte's Web" (2006) G | Family, Adventure | 1hr, 37 mins
Wilbur the pig is scared of the end of the season, because he knows that come that time, he will end up on the dinner table. He hatches a plan with Charlotte, a spider that lives in his pen, to ensure that this will never happen.
Watch Charlotte's Web Trailer- You Tube
Weekly pre-registration is required. If a date is cancelled due to weather, your registration is not transferable to any other date. Any cancellation will be announced day of, by 5 p.m.
**Please note, parking can only be accessed by 250 McIntyre Dr.**
FAQ's
Event capacity is determined by current public health restrictions. The capacity is divided up into viewing areas or "pods". You may reserve one "pod" with a max seating for up to 5 people. The event is free to attend however pre-registration is required. Those who have not registered will not be able to attend.
1. Are the movies shown outdoors?
Yes, the movie will be shown on our large inflatable screen outdoors. Seating will be on the grass.
2. Is this a drive-in style movie night?
No, guests will be seated outdoors and not in their vehicles. Dress for the weather (warm coat, blankets, etc.)
3. If I can't sit in my vehicle what will I sit on?
Guests will be seated on a grassy lawn. You can bring blankets or lawn chairs to sit on. We ask guests with chairs to be courteous of obstructing the view of others and to maintain 6' distance from others.
4. Will there be food available for purchase on site?
Not at this time.
5. Can I bring my own food and drink?
Yes, you may be bring your own food/drinks. At no time is alcohol permitted at the event. Please dispose of garbage and food at end of the night. Smoking is not permitted in the audience, there is a designated smoking area on the property.
6. Do I have to pre-register to come and watch a movie?
Yes, all guests must be pre-registered to attend. A valid ticket must be provided upon entry to be admitted into the site.
7. Will there be washrooms on site?
Yes, existing washrooms will be available on site. The outdoor washroom building is accessible.
8. Is the event accessible?
Yes, please contact us if you have any questions or require drop off closer to the seating area.
9. Will we be able to tour the farm?
The buildings will not be open but some animals may be in pens in the yard prior to the movie starting at the farm staff's discretion. We ask guests to stay in the movie area and not roam around the farm as some areas are not well lit.
10. Is parking available onsite?
Yes, ample parking is available. To enter the site, please access the parking lot from McIntyre Drive. No entry from Bleams road. See map below.
11. What about inclement weather?
The event will be cancelled in the event of rain. Attendees will be emailed by 5pm to notify of cancellation. Tickets are not transferrable for another date.
12. Can I bring my pet?
Pets are not permitted on the farm with the exception of service animals.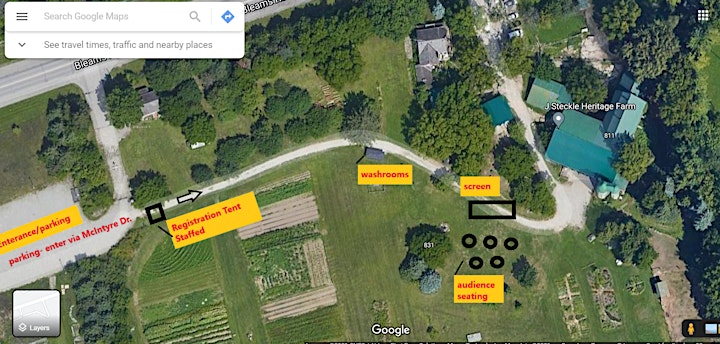 Organizer of City of Kitchener Outdoor Movie Night at Steckle Farm