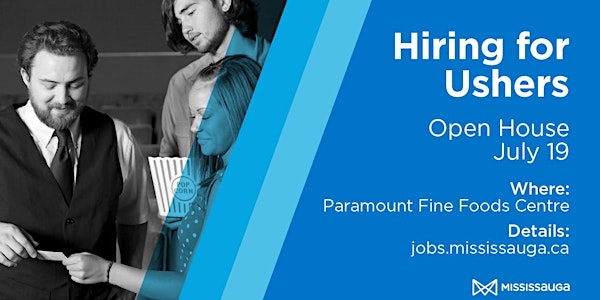 City of Mississauga - Usher Recruitment Open House
Location
Paramount Fine Foods Centre - Main Bowl Building B
5500 Rose Cherry Place
Mississauga, ON L4Z 4B6
Canada
Sales Have Ended
Registrations are closed
Sorry, registration for the end has ended.
Over 50 positions available to start in Late Summer/Early Fall 2022!
About this event
Interested in working in culture? How about working in a theatre or sports facility?
Now is your chance! The City of Mississauga is hosting an Open House at the Paramount Fine Foods Centre for part time Ushering/Guest Services staff for the Living Arts Centre, Meadowvale Theatre & Paramount Fine Foods Centre.
Each facility is hiring their own unique staff to assist in the execution of the various events that they host.
Staff who are interested in this position are willing to work evenings & weekends (that is when most concerts, sports events and theatre productions happen), enjoy culture and/or sports and working with guests of all ages. Candidates should also be outgoing and willing to enforce various theatre & arena rules. The Ushering/Guest Services role can cover a variety of duties including (but not limited to):
Parking attendants
Ticket Scanning & Entrance Protocols
Ushering to Seats
Guest Interaction & Customer Service
Post-Event Clean Up
Please take a look at each venue's website to see what interests you!
Each venue has their own unique events and experiences for both guests and staff alike!
This position is scheduled to start in September 2022
Join us on July 19th at the Paramount Fine Foods Centre Building B (Gate 1) at the Box Office near the Canada Flag!
Please bring a hard copy of your resume AND a USB with an electronic copy.
Successful candidates will be required to have a valid Emergency First Aid / CPR "B" certification upon their start date. Employment offers conditional upon receipt of a Criminal Record and Judicial Matters Check (Level 2), which is acceptable to the City of Mississauga.
Please note that this "ticket" is to help our staff determine the interest in each session to help ensure appropriate staffing. It does not guarantee an interview or entitle the holder to the position. All candidates are provided an equal opportunity. It is suggested to arrive early as sessions may close before the time listed if attendance is higher than anticipated.