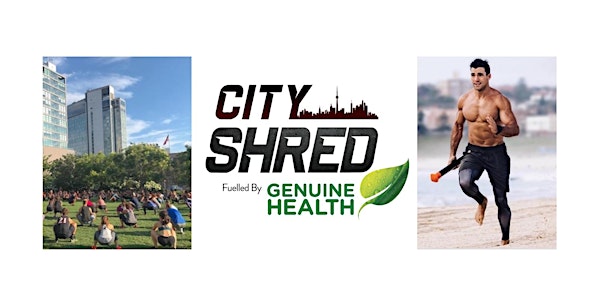 CITY SHRED Fuelled by Genuine Health
When and where
Location
Central Tech Stadium 725 Bathurst Street Toronto, ON M5S 2R5 Canada
Description
Be part of an epic group-training experience that challenges you to push your limits, work as a team and break a sweat, together! Set outdoors in the heart of YOUR city, CITY SHRED's debut will test your strength, endurance, agility and speed while being motivated by your peers to complete a killer HIIT workout like no other!
Join renowned trainer Andrew 'Pap' Papadopolous who will be in Toronto to lead the one-day fitness event! As seen on the cover of Men's Health – the former soldier, creator of Battle Fit Australia, and founder of the 365 PROgram will guide participants through a one-hour intensive sweat session that will leave you feeling inspired, triumphant… and most definitely sore! NO PAIN, NO GAIN!
Featuring a live DJ, the fitness event will kick off with a warm up guided by Toronto's top local fitness trainers & influencers, followed by a one-hour HIIT workout led by Andrew Pap, and capped off with a cool down session. Then, participants will have an opportunity to explore a marketplace of your favourite health, wellness & fitness brands to discover the city's offerings, enter cool contests, receive free samples and special offers!
Registration: 8AM to 9AM
Workout: 9AM to 11AM
Health & Wellness Marketplace: 8AM - 9AM and 11AM - 12PM
*Special Burpee Challenge at 8:30AM for a chance to win $1,000 in prizes! Must arrive before 8:30AM to participate in the Burpee Challenge.
Central Tech Stadium is located at 725 Bathurst Street on the west side of Central Technical High School. Central Stadium is public transportation friendly due to the high traffic area. We encourage TTC, walking or biking to access the stadium.
Subway: Take Bloor/Danforth Line to Bathurst Subway station and walk south or take the 511 street south to Harbord Street.
Bus: Take 94 Bus from Wellesley Station (West towards Ossington) or Ossington Station (East towards Wellesley) and get off at Bathurst Street.
Parking: Lot located on Borden Street on the east side of the school. Green P parking avaiailable on Borden and Bathurst near Bloor.