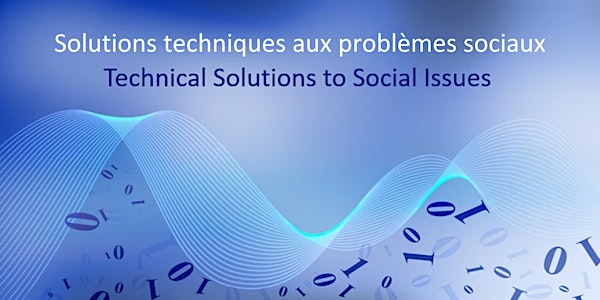 Civic Tech Bathurst 1st Meeting | Lançons la technologie civique à Bathurst
Let's start a Civic Tech in Bathurst! Lançons la technologie civique à Bathurst!
When and where
Location
K.C. Irving Regional Centre 850 Saint Anne Street Bathurst, NB E2A 6X2 Canada
About this event
ONLINE & In Person (zoom link provided once you register)
JOIN US FOR BATHURST'S FIRST CIVIC TECH MEETING!
Do you want to become more civically engaged? Are you interested in how technology and collaboration could be leveraged to find solutions to local issues in our community?
Hosted by the City of Bathurst and CodeforCanada join us to learn about how your IT skills can help our non-profit community with anything from complex Excel spreadsheets to application development. There are Civic Techs across Canada including Fredericton, Moncton and Saint John...It's time we had one in the Chaleur Region.
Civic Tech volunteers are a community of like-minded individuals who are passionate about using their skills to improve their community. Civic Tech volunteers also support each other by proving mentoring and employment opportunities.
Have a look at the Civic Tech in Fredericton website to see the list of projects and testimonials from their volunteers.
Do you like FREE PIZZA? - Then come and join us on Tuesday, August 30, from 7pm to 9pm for an information session on the Civic Tech movement and to meet like-minded individuals wishing to make a difference in our community.
What is Civic Tech? - Civic Tech is a national and international movement that engages people to participate more fully in the public sphere to better their communities. Civic Techs gather diverse groups of local volunteer stakeholders, such as policymakers, technologists, designers, public servants, and engaged citizens to learn from one another and to work together to give back to their communities.
This first of (hopefully) many gatherings will be used to gauge interest in developing a Civic Tech in the Bathurst area.
Looking forward to seeing all of you at the KCI Centre at 7 pm on Tuesday Aug 30, 2022.
ONLINE & In Person (zoom link provided once you register)
À propos de cet événement
EN LIGNE et en personne (lien zoom fourni lors de votre inscription)
JOIGNEZ-VOUS À NOUS POUR LA PREMIÈRE RÉUNION CIVIC TECH BATHURST !
Voulez-vous vous engager davantage dans la vie civique ? Êtes-vous intéressé à savoir comment la technologie et la collaboration pourraient être mises à profit pour trouver des solutions aux problèmes locaux de notre communauté ?
Organisée par la Ville de Bathurst et CodeforCanada, cette rencontre vous permettra d'apprendre comment vos compétences en technologie de l'information peuvent aider notre communauté non lucrative, qu'il s'agisse de feuilles de calcul Excel complexes ou du développement d'applications. Il y a des Civic Techs partout au Canada, y compris à Fredericton, Moncton et Saint Jean... Il est temps que nous en ayons un dans la région Chaleur.
Les volontaires des Civic Tech forment une communauté de personnes partageant les mêmes idées et passionnées par l'utilisation de leurs compétences pour améliorer leur communauté. Les volontaires de Civic Tech s'entraident également en offrant des possibilités de mentorat et d'emploi.
Consultez le site web de Civic Tech à Fredericton pour voir la liste des projets et les témoignages de leurs volontaires. (www.civictechfredericton.com)
Aimez-vous la PIZZA GRATUITE ?
Alors venez nous rejoindre le mardi 30 août, de 19 h à 21 h, pour une séance d'information sur le mouvement Civic Tech et pour rencontrer des personnes partageant les mêmes idées et souhaitant faire une différence dans notre communauté.
Qu'est-ce que le Civic Tech ?
Civic Tech est un mouvement national et international qui incite les gens à participer plus pleinement à la sphère publique afin daméliorer leur communauté. Les Civic Techs rassemblent divers groupes d'acteurs locaux bénévoles, tels que des décideurs, des technologues, des concepteurs, des fonctionnaires et des citoyens engagés, afin d'apprendre les uns des autres et de travailler ensemble pour redonner à leur communauté.
Ce premier d'une longue série de rassemblements servira à évaluer l'intérêt pour le développement d'un Civic Tech dans la région de Bathurst.
Au plaisir de vous voir tous au Centre KCI à 19 h le mardi 30 août 2022.