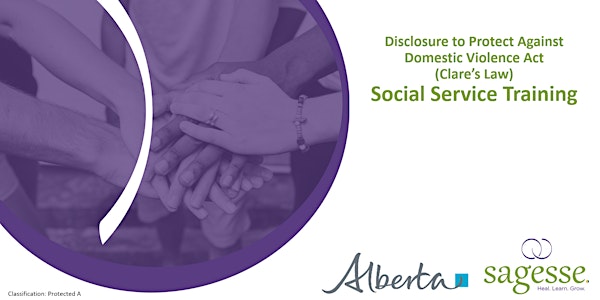 Multiple dates
Clare's Law Social Services Training
Disclosure to Protect Against Domestic Violence (Clare's Law) Act Social Service Training
Date and time
Mon, Jun 14, 2021 1:00 PM - Wed, Jun 28, 2023 1:30 PM PDT
About this event
On April 1, 2021, Alberta's The Disclosure to Protect Against Violence Act (Clare's Law) came into effect. Clare's Law provides a framework for disclosure of a person's history of violence to their intimate partners as well as opportunity to connect with social support services across Alberta.
Why take this training?
To build your capacity to talk with your clients and community about Clare's Law. You will learn how to support individuals through understanding and navigating the application and disclosure processes. This will also be an opportunity to learn how to receive and complete Clare's Law referrals that may come to your organization.
Who should attend?
The staff or volunteers at your organization who support people in Alberta who may be impacted by domestic violence. This may include social service providers, social workers, psychologists, informal supporters, networks, and more. The training is specifically designed for agencies that are a part of the Clare's Law Referral Network but being part of the network is not mandatory for attendance.
What you will learn:
In this webinar you will get the who, what, where, when and why of Clare's Law. That includes a walkthrough of your role in informing your clients about Clare's Law, acting as a third-party applicant, and providing support for applicants who ask for it.
Questions?
Email Sadia Anwar Equity Support Associate: sadia@sagesse.org or clares-law@gov.ab.ca
Facilitator:
Sadia Anwar, Equity Support Associate
Clare's Law Information:
Government of Alberta- https://www.alberta.ca/clares-law.aspx
When & Where :
June 7, 2023 from 1-2:30PM MST online
June 28, 2023 from 1-2:30PM MST online
***Please note that if we have less than the minimum required participants for this training it may be cancelled thank you.
About the organizer
Sagesse empowers individuals, organizations and communities to break the cycle of violence.