"Class City" - An Improvised History of Toronto

Weekly Event - Every Monday: 8:00 PM (EST)
Event Details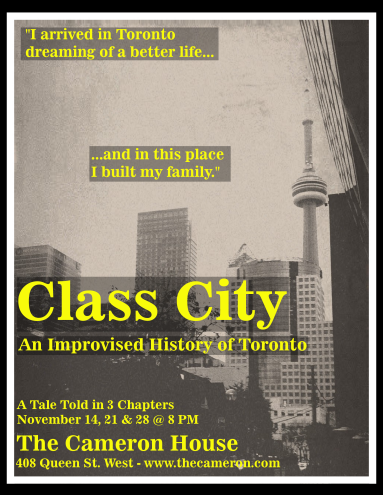 Follow the lives of an immigrant family through Toronto's turbulent and fascinating history!
"Class City" is a dramatic and comical romp that follows a ficticious family through the generations - from Fergus Connor, newly arrived in Toronto from Belfast in 1849, through to his great great great grandson Jamison Keating in the present day. Along the way the family struggles to find its place and prosper through the events of the city's exciting history. How will the family cope with fire, disease, the Great Depression, two world wars, and conflict with each other? How will advances in technology and the changing nature of Toronto affect their lives for better or for worse? You'll have to see for yourself, and perhaps even play a role in deciding the fate of the family!
Improvised history? WTF?
Each chapter will mention and incorporate many of the major historical events of the era, and bring the audience into Toronto's history in a way never before attempted in improv theatre. The show has an established plot, but each scene is improvised - the dialogue is made up on the spot - and audience participation is used to keep the performers on their toes and keep the action from slacking!
A show in three chapters...
The show will run on three nights at the Cameron House at 8:00pm. Each show will cover a different era and form a continuous story from start to finish. Audience members are encouraged to see all three, but each chapter can stand on its own as its own show.
Monday, November 14th - CHAPTER ONE (1849 - 1904)
Monday, Novemebr 21st - CHAPTER TWO (1905 - 1954)
Monday Novemebr 28th - CHAPTER THREE (1955 - 2011)
Tickets may be purchased for individual shows or a combo pass can be bought for all three at a reduced price. A limited number of those tickets are available for sale. See ticket types and prices for options. 
"Class City" - An Improvised History of Toronto
Cameron House- 804 Queen St West
Nov 14, 21, 28 @ 8:00PM
Tickets $15 (early bird pricing and 3-show combos available)
Directed by Kris Siddiqi
CAST
Dimetre Alexiou
Todd Charron
Dave Cooper
Robin Hatch
Jordan Kennedy
Kyle Scott
Jenny Serwylo
Carolyn Williamson
Narrated by Jason Kucherawy
Where

Cameron House
408 Queen St West
Toronto, Ontario
Canada

Weekly Event - Every Monday: 8:00 PM (EST)
Add to my calendar