Description
CLASS: How to Communicate Your Value with Storm Fletcher of
Richard Robbins International
Date: October 15, 2019
Time: 11:00am - 12:30pm
Location: 260 Lakeshore Road, E, Downtown Oakville
Requirements: Open to all local licensed Real Estate Agents
Cost: Free
Presenter: Storm Fletcher of RRI

---

The most difficult questions to answer are always the most important.
How do you communicate your value?
This brokerage prides itself on partnering with the best real estate professionals in the area. This includes you.
It should also be a constant reminder that regular training and remaining informed about our industry is crucial to your success.
I wanted you to be the first to have access to an exciting new private talk being held by one of Canada's leading authorities in real estate coaching and training, Richard Robbins International.
RRI's VP of Business Development, Storm Fletcher, will be our liaison during this talk. She is an industry expert, working with thousands of real estate professionals throughout the country.
This 90-minute training will exercise your knowledge of the current state of our industry, will teach you how to evolve your business, and will focus on one vital message: How to Communicate Your Value.
This 3 chapter discussion will include:
1/ . Determining your USP > How to shape and leverage your Unique Selling Point.
2/ . Undeniable Standards > What MUST you do to stay relevant, competitive, and original.
3/ . Current State of Affairs > Understanding the dynamic landscape and how to adapt.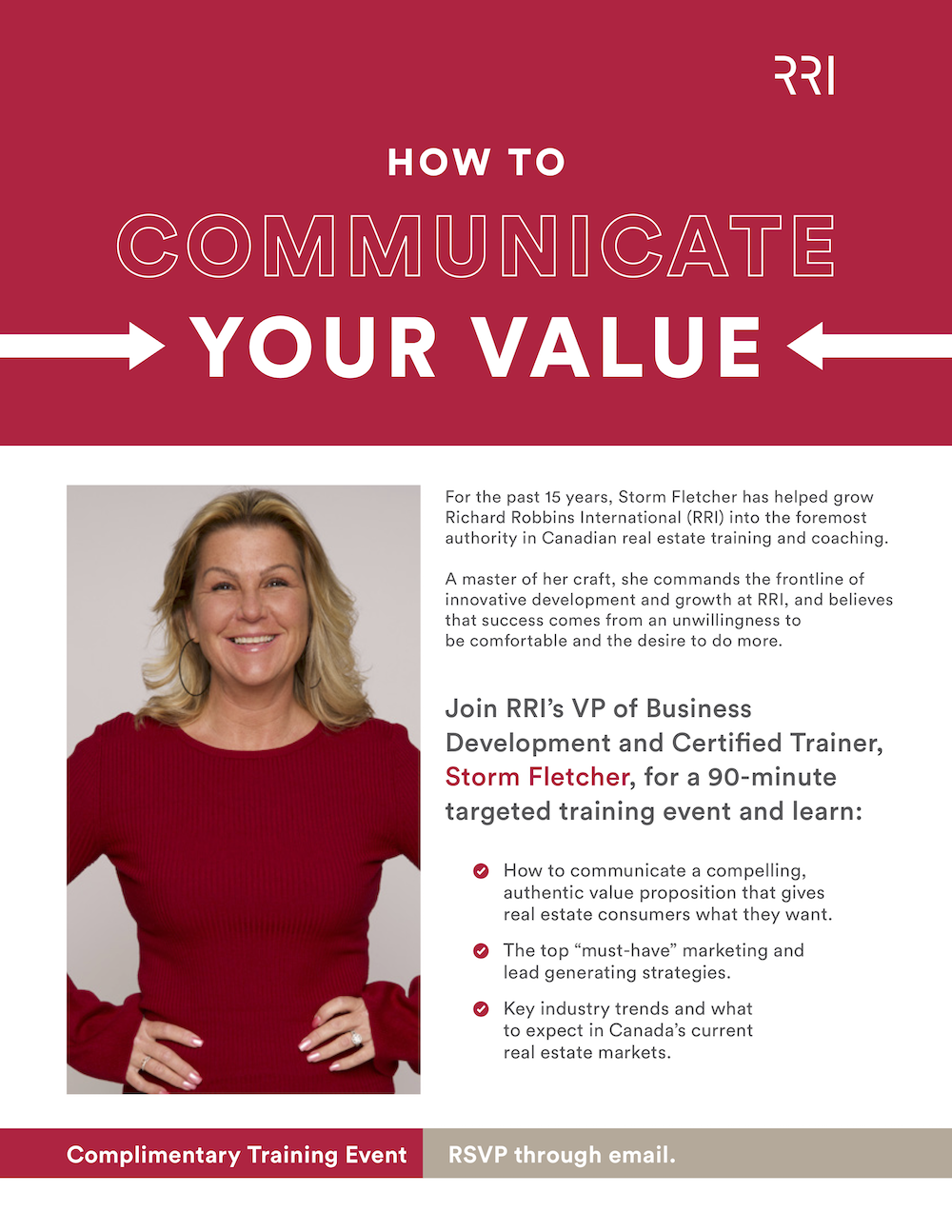 ---
ATTENDANCE & CANCELLATIONS:
To avoid disruptions to the presenter, please arrive 10 minutes early to the presentation.