Description
$20 at the door for non-members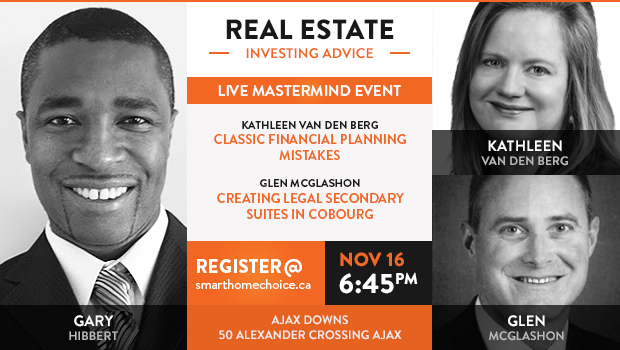 If you haven't been to Cobourg, you're going to LOVE IT! It's a great up and coming community to be investing in. Maybe you have questions about Cobourg and you're looking to learn more about why it would be a great place to invest. Luckily, we have Glenn McGlashon & Wendy Gibson joining us. Glenn is the Director of Planning & Development for the Town of Cobourg & Wendy Gibson manages Cobourg's Economic Development Department. They will be joining us to talk about what Cobourg has to offer you as an investment.
Kathleen Van Den Berg is a Certified Financial Planner who believes certain aspects of traditional planning methods can be flawed. Join us to hear her speak as she gives us some insight on how to improve cash flow and build significantly greater wealth.
Glenn McGlashon, MCIP, RPP, is the Director of Planning & Development for the Town of Cobourg. Glenn holds a Bachelor of Arts Degree in Urban and Regional Planning, and is a member of the Canadian Institute of Planners and a Registered Professional Planner. During his 29 year professional career, all with the Town of Cobourg Planning & Development Division, Glenn has prided himself on acting as a facilitator of change and using his knowledge and expertise to help build a strong, livable community. He has been responsible for all facets of land use planning and community development in the municipality, including preparing policy updates and amendments to the municipal Official Plan, overseeing the creation and implementation of numerous Secondary Plans, administering Zoning By-law Amendments and the approval of Draft Plans of Subdivision, acting as Project Manager on many special projects, and managing a departmental staff complement of six planners and building inspectors. In addition, Glenn has been qualified as an expert witness in land use planning matters at the Ontario Municipal Board. Glenn was raised in western Northumberland County, lives in Cobourg, and is married with two teenaged children. Contact Glenn McGlashon: gmcglashon@cobourg.ca
Wendy Gibson, who currently manages Cobourg's Economic Development Department, started her career working for the Government of Alberta's Department of Education but later went onto a career in Human Resources in the manufacturing sector. Here she attained and still holds her Certified Human Resources Leader Designation. While working in the manufacturing sector, she first hired and later terminated 240 employees due to a plant closure. The next step in her career was a natural transition in a role where she can affect change and support job growth within her community. For the last 25 years Wendy has worked in both Regional and Municipal Economic Development. She is a certified Economic Developer through the University of Waterloo and is also certified through Business Retention and Expansion International and has carried out several successful B.R. & E. projects in the region. She is a member and past Director of the Ontario East Economic Development Commission, and a Director on the board of the Northumberland Manufacturers Association. She now manages Cobourg's Economic Development Department and is proud to add her diversified background and skills to those of the fantastic team at the Town of Cobourg.
Kathleen van den Berg is a Certified Financial Planner who believes there are many aspects of traditional planning methods that are fundamentally flawed. She loves to write about the common financial mistakes she sees in her practice. Kathleen specializes in working with individuals and families to improve cash flow and help them build significantly greater wealth projections over their current plans. As a strong advocate of real estate and rental properties, she actively includes real estate as one of the six key components in her clients' wealth building plans. She owns 6 properties, including 5 rental properties. Helping clients create phenomenal wealth and having a lot of fun doing it is her "why". If you're interested, you can also join her Facebook group called Durham Money Matters. Contact Kathleen: vws@live.ca
RESERVE YOUR SEATS NOW!! $20 @ THE DOOR!
AGENDA
6:45pm - Doors open
6:45 - 7:10pm - Mix and Mingle
7:10 – 7:20pm – Introduction – Chris Hummell
7:20 - 8:00pm – Glenn McGlashon & Wendy Gibson
8:00 – 8:20pm – Mix and Mingle Break
8:20 – 9:00pm – Kathleen Van Den Berg
9:00 - 9:10pm - Closing remarks – Gary Hibbert
9:10 - 10:00pm - Mix and Mingle