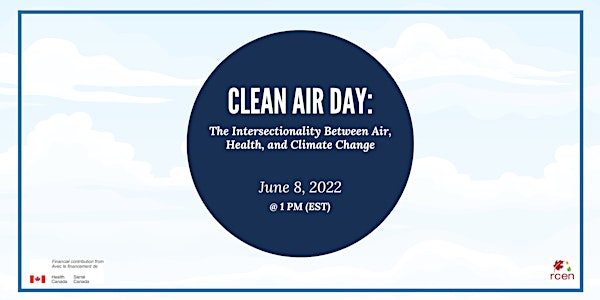 Clean Air Day: The Intersectionality Between Air, Health, & Climate Change
Clean Air Day: The Intersectionality Between Air, Health, and Climate Change
About this event
This year, Clean Air Day has an important focus on the intersections between air quality, climate action and human health.
National and international days are a powerful advocacy tool to educate the general public and mobilize political will and resources to address global problems. This is a time to celebrate achievement and resolve to do better.
On behalf of the Canadian Environment Network (RCEN) and Health Canada, we would like to invite you to our Clean Air Day event exploring the intersections between air quality, climate change and health on June 8th, from 1:00 PM - 2:30 PM EST. The goal of the event is to highlight the work of environmental NGOs presenting unique solutions to improve air quality and mitigate the effects of climate change in their region.
Melanie Langille, President & CEO of New Brunswick Lung Association
"How Climate change has been deemed the greatest threat to public health of our time. This talk provides an overview of our changing climate's effects on the air we breathe and on living with lung disease."
Saadia Hara, Environmental Health Program Coordinator at New Brunswick Environmental Network
"The NB EnviroScreen as a tool to help us take notice of intersectoral actions such as health, environmental and socio-economic indicators."
Emma DeRoy, Environmental Science Communications Specialist at Sierra Club Canada Foundation
"Air quality (AQ) and its impacts are rarely discussed. It remains a silent killer. Breathe Easy is looking to change that."
Francis Lavoie, Biologist for the Water and Air Quality Bureau (Health Canada)⁠