Description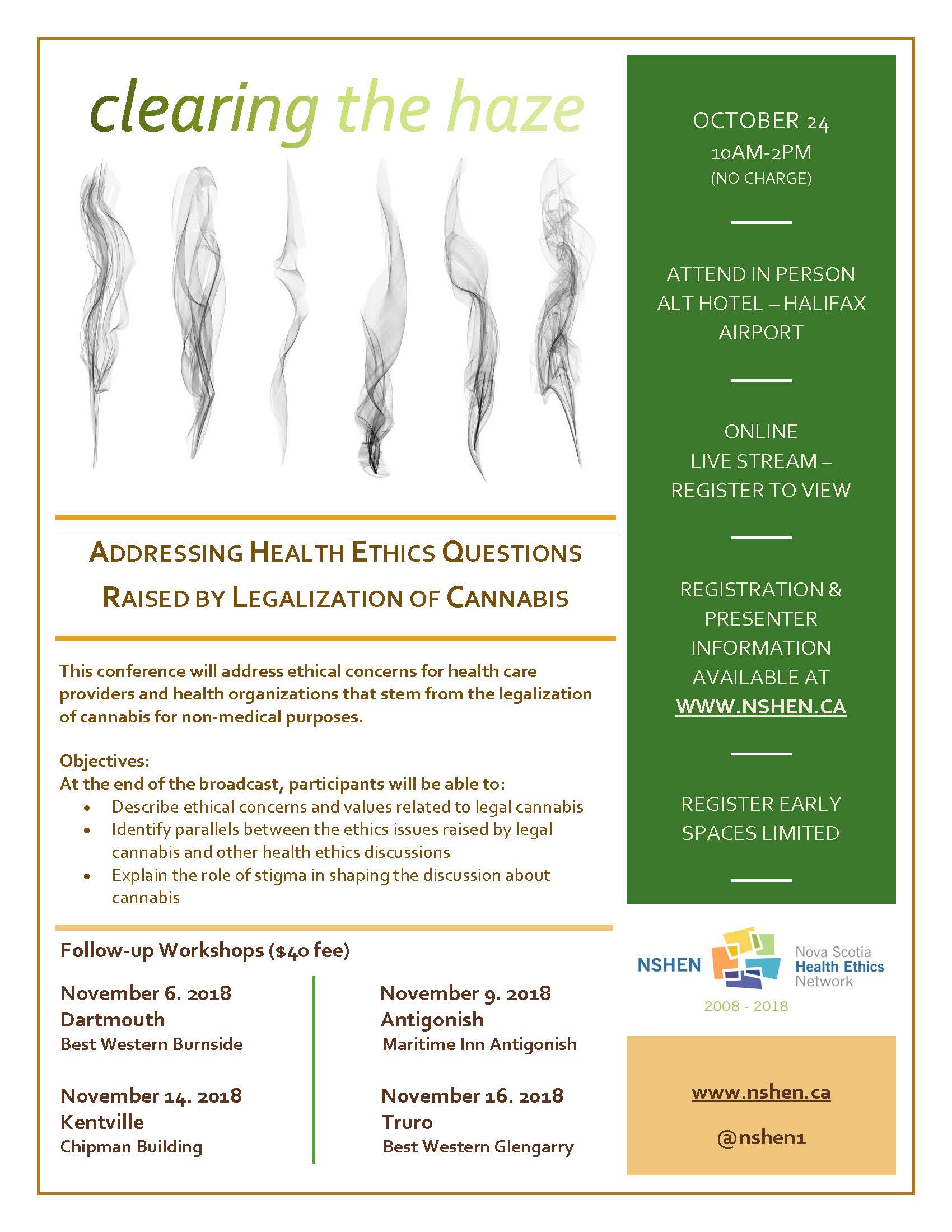 ---
Conference is now SOLD OUT
There is a waiting list available if you would like to add your name.
---
2018 NSHEN Conference
clearing the haze:
Addressing Health Ethics Questions Raised by Legalization of Cannabis
---
This conference will address ethical concerns for health care providers and health organizations that stem from the legalization of cannabis for non-medical purposes.
Objectives:
At the end of the broadcast, participants will be able to:
Describe ethical concerns and values related to legal cannabis

Identify parallels between the ethics issues raised by legal cannabis and other health ethics discussions

Explain the role of stigma in shaping the discussion about cannabis
---
Broadcast Schedule
10:00-10:25
Introduction and framing of discussion
-Marika Warren, NSHEN Ethicist
10:30-11:10
Background information - legislation and evidence
-Mary Ellen Gurnham, NSHA
11:15-11:35
Simulated conversations - concerns about a colleague
Simulated clinician + Actual clinician (TBA)
11:40-12:00
Simulated conversations - patient needing assistance
Simulated patient + Linda Verlinden, Northwood
12:00-12:30
Lunch
12:30-1:10
Panel - Ethical concerns about non-medical cannabis and how to address them
-Julija Kelecevic, MD & Ethicist, Hamilton Health Sciences Centre
-Barbara Whynot, Occupational Health and Safety IWK
-Health care provider from Shannex (TBA)
1:15-1:55
Looking Forward, Looking Back: Stigma and Drug Policy in Canada
-Daniel Buchman, University Health Network
1:55-2:00
Wrap-up
-Marika Warren, NSHEN Ethicist
---
Speaker Information
Daniel Buchman, University Health Network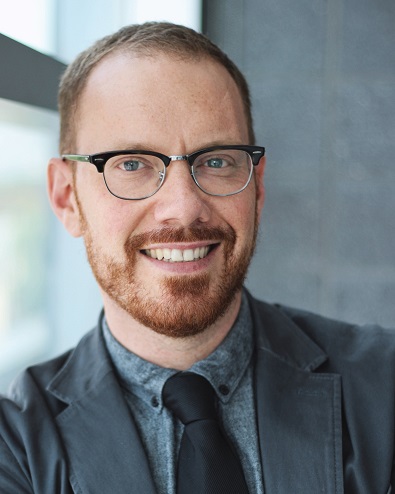 Daniel Buchman is a Bioethicist at the University Health Network in Toronto, Ontario, a Clinician Investigator in the Krembil Brain Institute, an Assistant Professor in the Dalla Lana School of Public Health, University of Toronto, and a member of the University of Toronto Joint Centre for Bioethics. In his research on the ethical dimensions of chronic pain, substance use, and mental illness, Daniel draws upon an interdisciplinary methodological toolkit including conceptual bioethics, theory-driven qualitative interviews and focus groups, surveys, and knowledge syntheses.
Barbara Whynot, IWK Health Centre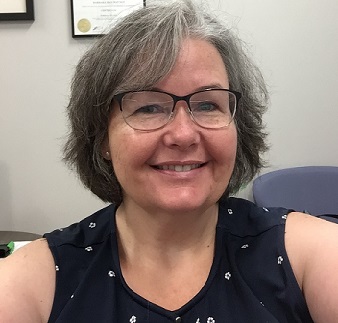 Barbara Whynot has been a Registered Nurse for 25 years with work experience in Obstetrics, Women's Health, EHS Lifeflight and SANE (Sexual Assault Nurse Examiner). For the past 5years she has worked in Occupational Health, Safety and Wellness at the IWK Health Centre in Halifax, NS.
Linda Verlinden, Northwoodcare Inc.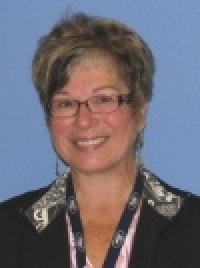 Linda Verlinden works as Client Relations Coordinator & Navigator for Northwoodcare Inc. in Halifax. A graduate from Cleveland State University with Certification in Patient Advocacy, Linda works closely with the clients, families and departments to ensure the clients' voice is heard. She assists individuals in the community to navigate through the Nova Scotia Health system when folks are struggling with where to begin. As the only Nova Scotia Department of Health recognized LTC Advocate in the East, Linda brings a broad knowledge base to this growing field.
---
After the conference, NSHEN will host follow-up workshops in the four NSHA zones.
At the end of the workshop sessions, participants will be able to:
Summarize various positions regarding ethics and legal cannabis

Identify ways to facilitate discussion related to legal cannabis, recognizing that stigma can affect the conversation

Apply ethics tools and frameworks to ethics cases regarding legal cannabis
There is a $40 registration fee for the follow-up workshop.
Please visit www.nshen.ca and click on the NSHEN Conference tab for more information on how to register for the follow-up workshops.
---