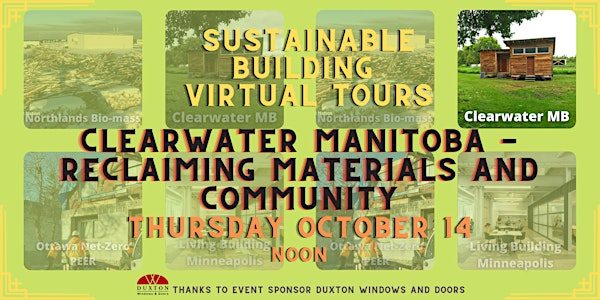 Clearwater Manitoba - Reclaiming Materials and Community
What does it look like when communities come together in a small rural Manitoba town?
By Sustainable Building Manitoba
When and where
Date and time
Thu, Oct 14, 2021 10:00 AM - 11:00 AM PDT
Refund Policy
Contact the organizer to request a refund.
Eventbrite's fee is nonrefundable.
About this event
Members get 50% off. Free for Student Members
When it came time to build some new accommodations in Clearwater Manitoba the community took a look at their resources and worked with them. For example, cabins were built using the wood from a nearby old farmhouse. This meant that the wood was in specific dimensions that the design team had to work with.
Building Name: Clearwater Cabins and more
Building Location: Clearwater, Manitoba
Year Built: 2014
Key Sustainable Feature: Recycled Materials, Community participation
Building Use: Visitor accommodations, restaurant, multipurpose
What was the process behind this decision? Were there any barriers? How does a project change when you involve the local community? How did connections with other communities help the process? How has food played a role in how things have developed?
Join the tour to see the behind the scenes of the community of Clearwater and hear how it has been transformed over the past couple of decades and how that brought people together.
TOUR GUILDS - Robert Guilford - Harvest Moon Society & Lancelot Coar - University of Manitoba
Robert grew up on a mixed farm North West of Clearwater, a small town in South West Manitoba. He has been involved with the Harvest Moon Festival since the beginning 20 years ago. Over the years he has been involved in number of projects in Northern Manitoba including Chickens of the North and Meechim Project.
Lancelot Coar is an Associate Professor in the Department of Architecture and joined the Faculty of Architecture in 2006. He holds a M. Arch. from the University of California, Berkeley, and previously earned a B.S. in Architectural Engineering and a B.S. in Civil Engineering from Drexel University. Currently, he is a PhD candidate in the Department of Architectural Engineering at Vrije University, Brussels.
In the Department of Architecture, Lancelot teaches core-technology and topics courses as well as undergraduate and graduate level design studios. In his teaching, his interests centre on exploring how architectural practice can effectively respond to the challenges posed by climate change and the social and cultural issues that are impacted by design practices. His studios explore these topics by investigating how design and construction sovereignty can empower underserved and remote communities to prepare for a more resilient and equitable future. Most recently this work has been realized through lasting partnerships with Indigenous communities and allied partner organizations in Canada.
Lancelot also carries out research at the Centre for Architectural Structures and Technology (C.A.S.T.) exploring how the dynamic properties of building materials can assist in establishing highly efficient modes of construction and form-finding practices. This has led to the development his current PhD research on a novel method of using bending active frames to create fabric-formed shell structures.
Members get 50% off. Free for Student Members
Once again this year the sustainable building tour will be virtual. Happily, this gives us the opportunity to tour buildings outside Winnipeg, Manitoba and even Canada every Thursday in October.
Get your ticket for all 4 tours for a discount - 4 for the price of 2
Since members get 50% off you get 4 for the price of 1.
Other tours:
OCTOBER 7th - 12 NOON
Northlands – Biofuel for District Heating in Northern Communities with Bruce Duggan - Boke Consulting
Building Name: Biomass / District Heating Plant & Harvesting Operation
Building Location: Northlands Dënesųłiné First Nation
Year Built: 2019
Key Sustainable Feature: Biofuel district heating system using local wood
Building Use: heating plant
OCTOBER 21st - 12 NOON
Ottawa Community Housing - Deep Retrofit Process with Dan Dicaire – OCH and Mark Carver - NRCan
Building Name: Presland Net-Zero PEER
Building Location: Ottawa, Ontario
Year Built: 1960
Key Sustainable Feature: Net Zero Energy and Net-Zero GHG
Building Use: Residential
OCTOBER 28th - 12 NOON
MSR Design Studio Tour - Living Building Challenge & Building Materials with Traci Lesneski, Rhys MacPherson & Simona Fischer - MSR Design
Building Name: 510 Marquette-MSR Design Studio
Building Location: Minneapolis, Minnesota
Year Built: 2019
Key Sustainable Feature: LBC Petal Certification: Materials, Beauty and Equity
Building Use: Workplace
Get your ticket for all 4 tours for a discount - 4 for the price of 2members still get 50% off.
Memberships get 50% off and free for students.
Thanks to event sponsor Duxton Windows for helping to make these tours happen.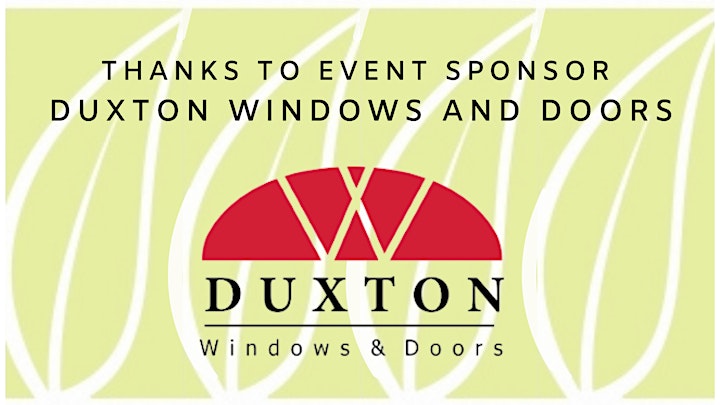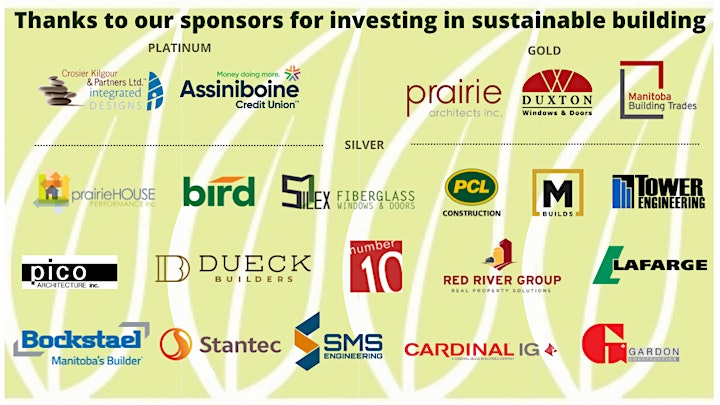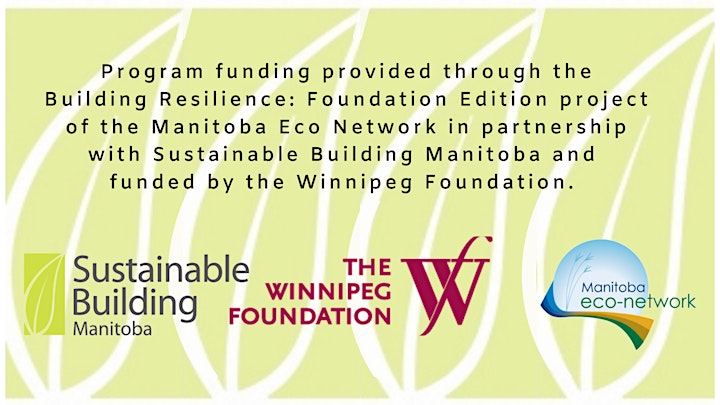 About the organizer
Sustainable Built Environment in Manitoba...