Client & Community Appreciation Event (Surrey - Career Paths for Skilled Im...
Description
We would like to invite clients, their families and the extended community to celebrate and recognize the success and achievements of the Career Paths program and its clients.
Agenda:
Words of welcome and Introduction from Debbie Samsom - President of Back in Motion

Guest Speakers

Success stories from past clients
Speakers will be followed by food, time to network and prizes donated by Vancity!
We will also be joined by representatives from the DIVERSEcity, Vancity, Applied Science Technologists & Technicians of BC and Surrey Schools Welcome Centre.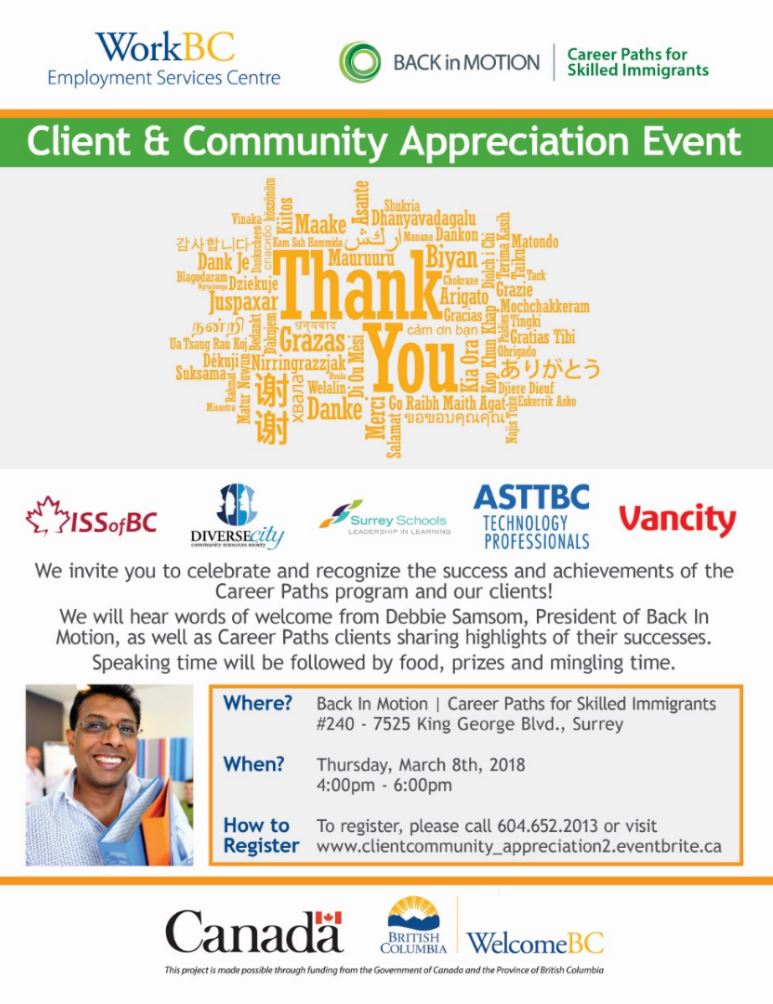 Organizer of Client & Community Appreciation Event (Surrey - Career Paths for Skilled Immigrants)
Many BC immigrants have skills and experience in occupations where there are shortages of qualified workers, but are often unable to access these jobs in BC. Back in Motion's Career Paths for Skilled Immigrants provides occupation-specific resources and support to help immigrant job seekers move into careers that match their qualifications. Career paths is a free service offered under the WelcomeBC umbrella, funded by the Government of Canada and the Province of British Columbia.
If you are a new immigrant looking for a job that matches your knowledge and skills, you will benefit from Career Paths for Skilled Immigrants. This free program will prepare you for the Canadian job market, using your past education and experience. Career Paths provides connections to help you find a career in your line of work.