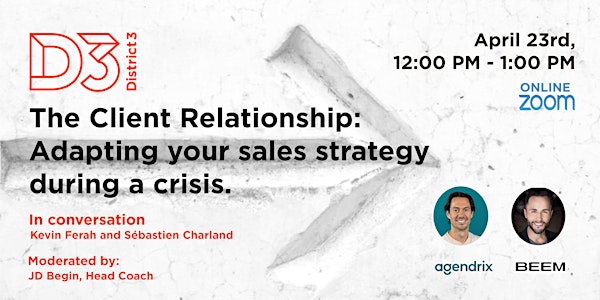 Client Relationships: Adjusting your sales strategy during a crisis
Join us on April 23rd to hear from sales experts on how to navigate and embrace new sales strategies.
About this event
Link to join: https://bit.ly/2RGi3x0
The world situation is changing rapidly, and every day brings a new situation or a new challenge to your startup as your customers' needs continue to evolve over time.
While most of your actions should be short-term, you need to keep a long-term view when it comes to managing relationships with your customers.
This is the time to make sure your sales funnel, employees, and pipeline are adjusting to survive during uncertain times.
Tune in on April 23rd for a discussion with sales experts moderated by District 3 head coach JD Begin. Join us to listen to what they have to share about embracing new sales channels, pivoting your sales and market strategies and how to maintain relationships with new and existing customers.
Link to join: https://bit.ly/2RGi3x0
**********************************
About the speakers
Kevin Ferah is the President, co-founder and VP of Sales for a software product company called BEEM Technologies. Kevin works with CEOs, executives and business owners to help them increase their revenue and gain control over their expenses regarding 2 very specific areas of their business. After spending half a decade working for a large recreational product manufacturer and dedicated many years working in the automotive industry for some of the most reputable Automotive brands and race teams, Kevin knows what his customers need to take control of their business, have predictability - and 90% of the competition out there don't have a clue. It's how well you understand the end customer that will give you the chance to sit at a table and help these people who have a need.
Kevin has landed some very large deals in print with the most recognized brands including, Porsche, Mercedes Benz, Nissan and Infiniti, Jaguar Land Rover and many more. His sales techniques and figures speak for themselves and has generated with a 2 man sales team over 2M in revenue in under 36 months. In addition to his extensive engineering, sales and business experience, Kevin is a business coach, race car driver and builds unique motorcycles.
Kevin holds a BA in mechanical engineering from the École de technologies supérieure.
.
Sébastien Charland is a CPA by trade and holds an MBA from the University of Sherbrooke. After a short finance and corporate risk management career in Montreal, he decided to quit his day job and join his childhood friends starting a SaaS business named Agendrix, in his hometown of Sherbrooke. Starting from scratch, he learned the ins and outs of selling a software product and managing a sales & support team mainly through reading, learning-by-doing and mentors. Today he is VP Sales & Partner at Agendrix, where he oversees a team of 7 with a customer base of over 2600 customers.
.
JD Begin is a Venture capitalist turned entrepreneur and angel investor. As head coach at District 3, Bégin helps founders find product market-fit, grow their key metrics, and secure financing. Having previously worked as a growth advisor and mentor to firms such as VM6 Software Inc., Techstars and Traction Ventures, Bégin leverages more than 15 years experience to uniquely equip startups with the tools they need to grow into successful enterprises. Bégin holds an MBA from Concordia University, as well as a bachelors of Business Administration in accounting and finance from UQAM.