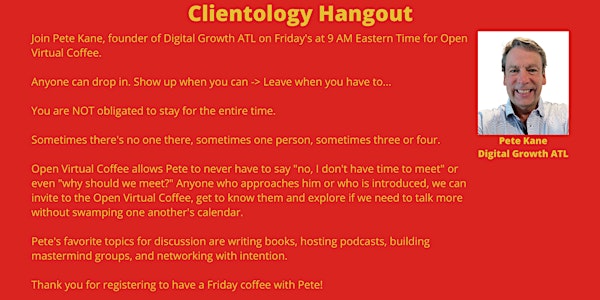 Clientology Hangout with Pete Kane (Atlanta)
Join us for a weekly online networking group. We are businesses in Atlanta who serve other businesses in Atlanta.
About this event
Join Pete Kane, founder of Digital Growth ATL on Friday's at 9 AM Eastern Time for Open Virtual Coffee on Zoom.
Anyone can drop in. Show up when you can. Leave when you have to...
You are NOT obligated to stay for the entire time.
Sometimes there's no one there, sometimes one person, sometimes three or four.
Open Virtual Coffee allows Pete to never have to say "no, I don't have time to meet" or even "why should we meet?" Anyone who approaches him or who is introduced, we can invite to the Open Virtual Coffee, get to know them and explore if we need to talk more without swamping one another's calendar.
Pete's favorite topics for discussion are writing books, hosting podcasts, building mastermind groups, and networking with intention.
Thank you for registering to have a Friday coffee with Pete!
Join our LinkedIn group if you want to connect with others in our network.