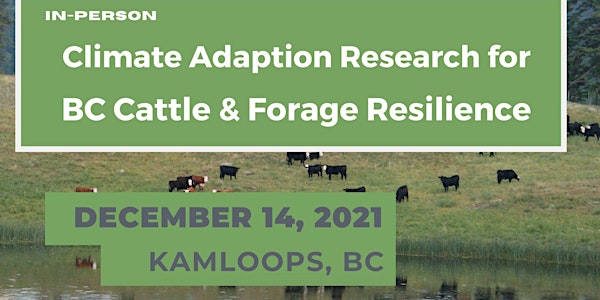 Climate Adaptation Research for Cattle & Forage Resilience
One day workshop discussing recent research & what's needed to support climate adaptation and resilience in BC's cattle and forage sectors.
About this event
Part of the annual Climate Adaptation Research for BC Agriculture workshop, this workshop will bring together about 40 farmers and ranchers, researchers and government representatives for a day of collaborative discussions.
Hosted in Kamloops at the Sandman Signature hotel downtown, discussions will focus on resilience for BC's cattle and forage sectors, including adaptive management for cropping and water management, linking adaptation and carbon sequestration and future research needs.
Come prepared for a highly interactive day and lively discussions.
Breakfast and lunch will be provided for attendees.
There is no cost for registration, but spaces are limited and proof of COVID vaccination will be required by the venue.
Register now to reserve a space.
For a hotel discount code at the Sandman Signature contact shauna@bcacarn.com
Workshop Agenda
8am - Breakfast (for all registered participants)
9am - Welcome & opening
Moderator: ACARN Chair, Serena Black
Opening welcome from T'kemlups te Secwepemc Elder, Viola Thomas
Round of introductions (all)
9:15am - Visions for Resilience on forage & range lands
BC Forage Council
BC Cattlemen's Association
First Nations Agriculture Association of BC
9:40am - Integrated landscape management
Provincial assessment for livestock surface water & forage inventory, Kevin Boon, BC Cattlemen's Association
Resiliency : Projecting Forage and Water on Crown Range, Andrew Pantel, Pantel Environmental Consulting Inc
Discussion: Implementation and transferability
10:20am - Break
10:35 am - Increasing resilience by building capacity for on-farm trials
Building on-farm research capacity, Serena Black, BC Forage Council
Supporting farmer-led research trials, Dr. Catherine Tarasoff, Agrowest Consulting Scientists
Discussion: Institutional support for producer-led research
11:35am - Student research forum
Sarah Bayliff, TRU, Examining the Effects of Irrigation, Fertilization, and Mowing on Plant Productivity and Soil Carbon Levels of Perennial Cropping Systems
Laura Ploughe, TRU, Rangeland response to grazing varies across an elevation gradient in the southern interior of British Columbia
Patrick Pow, UBC Vancouver, GHG net flux in Lower Mainland forage production
Q & A
12:15pm - Lunch
1:00pm - Silvopasture as an adaptive management strategy
Introduction to provincial silvopasture pilots, Lisa Zabek, AFF
Strip harvest to boost productivity and sink carbon, Dr. Lauch Fraser, Thompson Rivers University
From pilot to implementation on range tenure, Werner Stump, Crystal Lake Ranch
Discussion: Research and extension needs
2:15pm - Break
2:30pm - Wildfire impacts, risk reduction and resilience
How wildfires are affecting hydrology, Dr. Tom Pypker, Thompson Rivers University
Multifunctional pasture rejuvenation trials , Matthew Coghill, Thompson Rivers University
Wildfire risk reduction through targeted grazing, Amanda Miller, Palouse Rangeland Consulting and BCCA
Discussion: Research and extension needs
3:30pm - Closing session
Key take aways
Identifying priorities for research and extension
Identifying assets and needs
4:00pm - Wrap up
Funding Acknowledgement
Funding for this event has been provided in part by an anonymous donor and in part by the governments of Canada and British Columbia under the Canadian Agricultural Partnership, a federal-provincial-territorial initiative.

Organizer of Climate Adaptation Research for Cattle & Forage Resilience
The British Columbia (BC) Agricultural Climate Adaptation Research Network (ACARN) was launched in 2017 to improve linkages and collaboration among agricultural researchers, industry specialists, policy-makers, students and producers from across the province.
The aim of this collaboration is to develop an effective network approach to address climate adaptation research needs in the BC agriculture industry by enhancing provincial research, promoting interdisciplinary projects, and improving the efficient use of climate adaptation resources.