Description
CLIMATE CHANGE - OTTAWA, AND THE PROVINCES, ARE GOING TO PARIS
A delegation led by the new prime minister, which includes the premiers, will attend the United Nations Climate Change Conference that begins in late November in Paris. Join this timely panel of experts for a discussion of the complex, and sometimes controversial, politics and science of climate change.

Michael Hart will draw from his new book Hubris: The Troubling Science, Economics and Politics of Climate Change. For many years a senior trade policy negotiator, he is the founder of the Centre for Trade Policy and Law at Carleton University.

Tim Patterson PhD, professor of Geology, Carleton University, and his research team study trends and cycles in the climate record over the last several thousand years. This research is mandated to increase preparedness for current and future climate change particularly on northern ecosystems.

Catherine Potvin PhD will draw her comments from Acting on Climate Change. A McGill professor she holds a senior CRC Chair on climate change mitigation. For six years until 2011 she was Panama's negotiator on the UN Framework Convention on Climate Change.

John Stone PhD is a director of the Pembina Institute, which is dedicated to the transition to cleaner energy. For many years a senior official and scientist at Environment Canada, at Carleton University he continues his research as an adjunct research professor of environmental studies.

The panel will be moderated by Abbie Dann, Vice President, CIC National Capital Branch.
DATE AND TIME:
Wednesday, November 18, 2015
5:00 pm: Registration, reception and cash bar
6:00 pm: Presentation, discussion
7:30 pm: Dinner (optional)

Please notify us in advance of any special dietary requirements.
Deadline for registration and cancellation is noon on Monday, November 16, 2015.
Ticket Prices: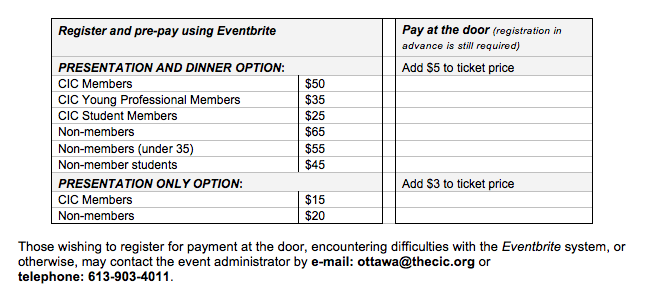 ___________________________________________________________________________________________
Le chapitre de la Capitale nationale du Conseil international du Canada (CIC) présente
LE CHANGEMENT CLIMATIQUE - OTTAWA ET LES PROVINCES SE RENDENT À PARIS
Le premier ministre du Canada, accompagné d'une délégation des premiers ministres des provinces, participera à la Conférence des Nations Unies sur le changement climatique à la fin novembre à Paris. Joignez-vous à notre panel d'experts pour une discussion sur le thème complexe et parfois controversé de la politique et de la science du changement climatique.

Michael Hart s'inspirera d'un ouvrage qu'il vient de publier, Hubris: The Troubling Science, Economics and Politics of Climate Change. Négociateur commercial en chef pour le Canada pendant de nombreuses années, il est le fondateur du Centre de droit et de politique commerciale de l'Université Carleton.

Tim Patterson PhD, professeur de géologie à l'Université Carleton, et son équipe étudient les tendances et les cycles climatiques s'étant manifestés au cours des derniers millénaires. Leurs recherches visent à accroître la préparation pour des changements climatiques à l'heure actuelle et dans l'avenir surtout dans le nord.

Catherine Potvin PhD, s'inspirera du rapport Agir sur les changements climatiques. Professeure à l'Université McGill et détentrice d'une chaire du CNR (palier 1) sur l'atténuation des changements climatiques. Elle était négociatrice du Panama dans le contexte de l'application de la Convention-cadre de l'ONU sur les changements climatiques entre 2005 et 2011.

John Stone, PhD, siège au conseil d'administration de l'Institut Pembina, qui a pour mission de découvrir des solutions durables en matière d'énergie. Haut fonctionnaire et scientifique à Environnement Canada pendant de nombreuses années, il poursuit ses recherches à l'Université Carleton en tant que professeur adjoint de recherche en études environnementales.

La table ronde sera modérée par Abbie Dann, vice-présidente du chapitre de la Capitale nationale du CIC.

DATE ET HEURE:
Mercredi 18 novembre 2015
17 h 00: Inscription, réception et bar payant
18 h 00: Présentation, discussion
19 h 30: Repas (facultatif)
Veuillez nous avertir si vous avez des exigences diététiques spéciales.
La date limite des inscriptions et des annulations est lundi le 16 novembre 2015 à midi.
Prix des billets: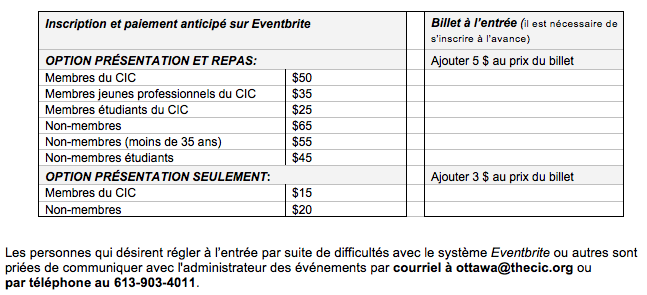 Organizer of Climate Change - Ottawa, and the Provinces, are Going to Paris
The Canadian International Council (CIC) is an independent, member-based council established to strengthen Canada's role in international affairs. The National Capital Branch is very active with regular speaker dinners, informal speaker events, study and working groups, and occasional conferences. Given its location in Ottawa, it is able to bring together public policy makers, academica, the private sector and private citizens to discuss a wide range of issues related to international affairs.