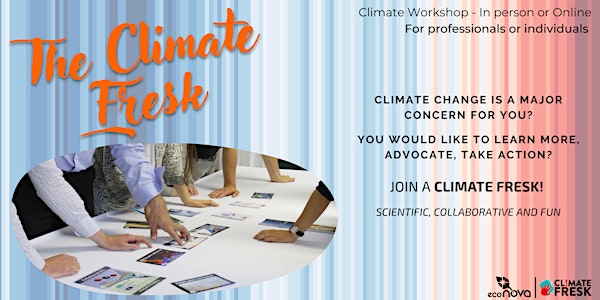 Multiple dates
Climate Fresk (Fresque du climat) - IN PERSON - Vancouver BC
Scientific and collaborative game to understand the causes and consequences of climate change. Join the Fresk Community in Canada!
When and where
Date and time
Thu, Dec 15, 2022 5:30 PM - Sat, May 6, 2023 7:00 PM PST
Location
318 Homer St 318 Homer Street Vancouver, BC V6B 2V2 Canada
About this event
Climate Fresk
You are interested in climate change, but don't know how to talk about it with your friends/family?
You want to understand the issues of climate change, but don't know where to start?
You want to learn more about the subject, with reliable sources and in a recreational format?
If you answer yes to any of these questions, the Climate Fresk is made for you! Take part in this international scientific and collaborative workshop to decipher - in details - the climate system.
In a team of 4 to 7 people:
- Through collaborative intelligence, investigate up to 42 cards representing the key concepts of climate science (all based on IPCC reports).
- Try to find all the causes and consequences of climate disruption and make this collaborative work unique during the creative phase.
- Debrief with your facilitator to make this Climate Fresk memorable as well as debate with other participants the best ways to stabilize the global warming at or below 1.5°C.
The "Climate Fresk" is an Educational tool from France that was acclaimed by scientists for its rigour and pedagogy. Already HALF A MILLION participants worldwide and a growing community of active facilitators. This participatory and creative experience will allow you to learn a lot in just a few hours.
Details :
- lasts 3 hours
- nothing to prepare, justcome as you are and bring your curiosity!
- article about the Climate Fresk: https://yaleclimateconnections.org/2022/09/almost-half-a-million-people-have-played-this-climate-change-card-game/
The Climate Fresk is available in French or in English, in person or online. Available in also for companies. More informations here.
This workshop is FREE, but needs help. We encourage you to make a DONATION : https://donorbox.org/giving-to-econova-2
If you have any questions : info`@econova.ca