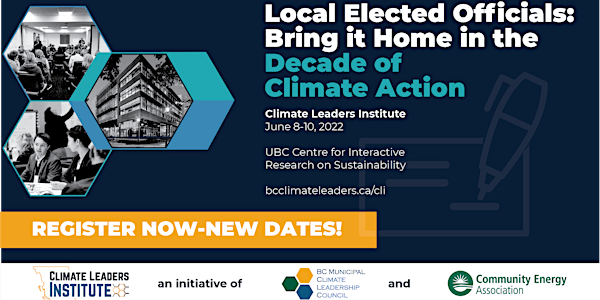 Climate Leaders Institute: Bringing it Home in the Decade of Climate Action
Event Information
Location
Centre for Interactive Research on Sustainability
2260 West Mall
Vancouver, BC V6T 1Z4
Canada
Come together! It's the decade of climate action and it's time to bring home new ideas for climate action in your community.
About this event
The BC Municipal Climate Leadership Council (BCMCLC) and Community Energy Association invite you to the 2022 Climate Leaders Institute (CLI).
CLI will be in-person at the Centre for Interactive Research on Sustainability at UBC's Vancouver campus, in partnership with the Sustainability Hub. UBC is on the traditional, ancestral, and unceded territory of the Musqueam people.
Attendance is limited. Register before May 20th to reserve your spot. May 20th is the deadline to allow us to customize content for participants, but registrants will be accepted on an ongoing basis until we reach capacity.
This event is exclusively for elected officials. If you're a local government staff person, please email bcmclc@communityenergy.bc.ca. We will be holding spots for elected officials, but we can follow up if there is space closer to the event.
What is the Climate Leaders Institute?
CLI is a unique opportunity for BC local elected officials to come together for peer mentorship, support, tools, and inspiration on accelerating climate action in your community. We use a combination of small break-out groups and presentations to ensure participants are able to learn new skills and strategies and apply them. All content at CLI is designed and delivered by colleagues, leading professionals and inspirational speakers. The last CLI in 2019 was sold out. More information can be found at https://bcclimateleaders.ca/cli.
COVID-19
Pandemic-related safety is a serious concern for all of us. CLI will follow all provincial restrictions and guidelines.
Given the focus on group discussions, CLI 2022 will not be live-streamed nor presented as a hybrid event. Nevertheless, keynotes and presentations will be recorded and provided, free of charge, for viewing on the BCMCLC and CEA websites shortly after the event.
We are monitoring the evolving public health situation and guidance from the Government of BC. More details will be sent out closer to the event.
The Venue
UBC's Centre of Interactive Research on Sustainability (CIRS) is one of UBC's most sustainable buildings and serves as a "living lab" for sustainability on a variety of topics that are relevant to communities. Most sessions will be in the BC Hydro Theatre and adjacent Policy Labs.
Campus Accommodations and Food Services
UBC Accommodation Options
Please note that accommodation is not included in the registration fee. Participants have three on-campus accommodation options. The West Coast Suites and New Studios are at the same location, which is a13-minute walk from the CIRS Building. The Pacific Spirit Hostel is an 8-minute walk from CIRS. These can be booked at http://www.suitesatubc.com.
There is limited availability for rooms, so participants should book as soon as possible. UBC has a 72-hour cancellation policy.
Pacific Spirit Hostel Single Room - $60 +tax per night
Private single room that sleeps one person. Guests share a washroom with showers (no bathtub) and TV lounge located on each floor. Rooms do not have air conditioning and there is no elevator at the hostel.
Signature Studio at Gage Suites - $195 + tax per night
Premium private studio room with queen bed, fully equipped kitchen with appliances, and washroom with shower (no bathtub).
West Coast Suites – $275.00 + tax per night
Contemporary private one bedroom suite with king bed in bedroom and queen sofa bed in living room. Sleeps up to four people. Kitchen equipped with stove top, dishwasher, microwave and bar fridge.
Off Campus Accommodation Options
It is also possible to stay closer to downtown Vancouver. Staying at a hotel near Broadway-City Hall Station allows for good transit access to Vancouver International Airport (YVR) and to UBC.
Food and Dining
Nearby the CIRS building (4-minute walk) is the Open Kitchen dining room located in Orchard Commons and provides a range of food options and menus that can be viewed on UBC's website. Hours are 7 AM to 2 PM and 3 PM to 9 PM.
Also located at Orchard Commons is the Hero Coffee + Market. All of their coffee and tea is Organic and Fair Trade. Hours are 8 AM to 11 PM.
Numerous other food and beverage options are available nearby. See the UBC website for details.
Fees and Cancellation
Registration costs for the 2022 CLI:
$175 for participants from CEA member-communities
$225 for participants from communities that are not members of CEA
See the CEA website for a listing of members.
As per the guidance from the Province of British Columbia, we are encouraging delegates who are not feeling well to refrain from attending CLI. In these cases, we will provide a refund of CLI registration fees. This does not include accommodation or travel expenses.
Reduced registration fees may be available for those participants who need financial assistance. Please contact Maya Chorobik to discuss: mchorobik@communityenergy.bc.ca
Thank you to our Supporters
This event is possible thanks to BC Hydro and Real Estate Foundation of BC. 
Date and time
Location
Centre for Interactive Research on Sustainability
2260 West Mall
Vancouver, BC V6T 1Z4
Canada