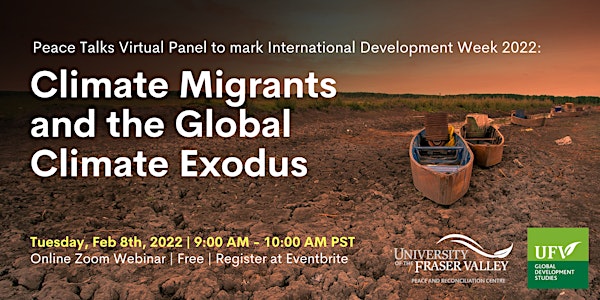 Climate Migrants and the Global Climate Exodus
A virtual panel hosted by the University of the Fraser Valley focusing on climate migrants and global and Canadian responses
About this event
The Canadian International Development Agency (now Global Affairs Canada) has recognized and planned events for "International Development Week'' (IDW) annually in February since 1990. To mark IDW 2022, the university's Peace and Reconciliation Centre (PARC), and several academic programs (Global Development Studies, Criminology, and Environmental Studies) will host a virtual panel event focusing on climate migrants, and global and Canadian implications and responses. The event will be moderated by Dr. Geetanjali Gill, Assistant Professor and Co-Chair, Global Development Studies Program, and PARC Commitment Leader for the Community of Practice on Refugee Crises and Experiences.
Panelists:
Amali Tower - Founder and Executive Director of Climate Refugees. Amali has extensive global experience in refugee protection, refugee resettlement and in forced migration and displacement contexts, having worked for numerous NGOs, the UN Refugee Agency and the US Refugee Admissions Program. Years of interviewing refugees fleeing conflict afforded her the chance to hear their stories of also fleeing climate change. Through this, Climate Refugees was born. She has conducted country and regional visits of case studies and research in climate-induced displacement contexts, including in urban and camp settings. Her research on climate, conflict and displacement in the Lake Chad Basin in Africa's Sahel was presented as evidence of loss and damage at COP 26 in Glasgow. She is a member of the World Economic Forum Expert Network in Migration, Human Rights & Humanitarian Response, and is an expert contributor to the Forum's 2022 Global Risks Report, where climate inaction is ranked as the top risk facing the world today.
Megan Capp - Instructor in Criminology (Justice and Human Rights), UFV, and Manager of Social Justice, Seniors and Housing at Archway Community Services, Abbotsford, BC. Megan will speak about the policy implications of climate displacement and migration, the shortcomings of existing international instruments, whether amendments or new instruments are needed, the need for countries such as Canada to recognize 'climate migrants' in their laws and policies, and connections between climate displacement and the SDGs.
Alea Mohamed - President of the SFU International Studies Student Association, and a program manager at the BC Council for International Cooperation's Climate Change Branch (BCCIC). Alea will speak about the implications of climate-induced displacement in Canada.
Sarah Kamal. Sarah wrote "Out of harm's way: A scan of emerging global practices in climate change displacement for Canadian policymakers and practitioners" for the UBC Sustainability Initiative and the Climate Displacement Planning Initiative. She is a director for an Indigenous-led regional emergency services society to address climate and disaster response and recovery in the Fraser Canyon.
The University of the Fraser Valley ("UFV") will be using Eventbrite to manage registration for the Fraser Valley Flood: An Environmental Policy Forum. UFV is collecting your personal information through Eventbrite under section 26(c) of the Freedom of Information and Protection of Privacy Act.
Registration through Eventbrite is voluntary. Please be aware that IP addresses, event responses and personal email addresses (if supplied in place of a business email) will be collected by Eventbrite, and this information will be stored by Eventbrite outside of Canada. By clicking on the Attend Event or Register button, you are consenting to your personal information (IP address, event response and email address) being stored in the United States. Your consent is effective as soon as you register.
If you do not wish to register using Eventbrite, please email geetanjali.gill@ufv.ca who will register you manually. If you have any questions about the collection, use or disclosure of your personal information, please contact Geetanjali Gill via email geetanjali.gill@ufv.ca.