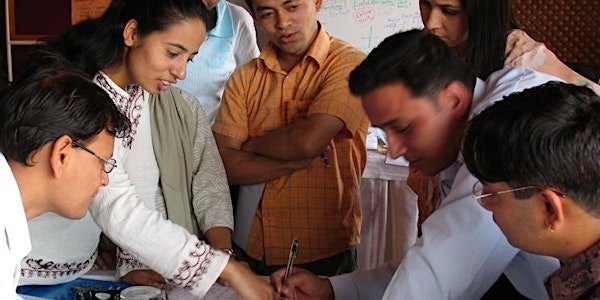 Climate Solutions and Ottawa's Official Plan: Nov 15 and 16
When and where
Location
Bayview Yards 7 Bayview Station Ottawa, ON K1Y 2C5 Canada
Description
Now is the time for the City of Ottawa and its residents to move decisively in the direction of a sustainable, healthy and caring city for all. The new Official Plan, currently under development, provides an opportunity to begin to lay out the guiding principles and specific directions needed to address the interrelated challenges of sustainability, social justice and the transition to a carbon-neutral economy.
Since the Spring of this year an alliance of community and environmental groups has been reviewing strategic directions for the Official Plan brought forward by City staff. We have done this work with a view to co-creating "A People's Plan for Ottawa's Climate Emergency" that would advocate for climate solutions that are also the community solutions for a sustainable city. The reason this matters is that reducing greenhouse gases in the atmosphere and protecting ourselves from the worst impacts of climate change can only happen if there is overwhelming public demand for meaningful climate action. The workshop unfolds in two sessions:

Friday: Launching the Discussion (7:00 PM to 9:30 PM)
Saturday: Co-creating Climate/Community solutions (9:00 AM to 4:30 PM)
We ask that if you register you commit to attending both sessions so that we can build consensus gradually, from beginning to end.
SUMMARY AGENDA
EVENING, FRIDAY, NOVEMBER 15
Arrival: Doors open at 6:30. Pre-seating by urban context (urban core, inner urban, outer urban, rural).
7:00 – 7:20 Launch
Welcome, Acknowledgement of Algonquin Territory
Background (People's Plan for Ottawa's Climate Emergency; City of Ottawa Official Plan)
Workshop Goal: Build consensus around the climate goals we want to see embedded in the Official Plan and related Master Plans, and describe actions the City and communities can take to pursue these goals.
Workshop Process outline: Combination of plenary and small group work, organized around community priorities.
7:20 – 7:45 Setting the Table for Climate Solutions
Land Use and the Climate Emergency,

Dianne Saxe, former Environmental Commissioner of Ontario (via recorded message)

Community Solutions = Climate Solutions = Community Solutions, Mitchell Beer, The Energy Mix
7:45 – 8:00 Building Blocks of a Climate Positive Official Plan
Creating a Healthy Transportation Network for All (Ecology Ottawa)

Sustainable Infrastructure and Buildings (Ecology Ottawa)
8:00 – 8:30 Group Discussions (brainstorming)
8:30 – 8:45 Building Blocks of a Climate Positive Official Plan
Protecting Existing and Establishing New Ecosystem Services (CAFES and Greenspace Alliance)

Fostering food producing communities (JustFood)
8:45 – 9:15 Group Discussions (brainstorming)
9:15 – 9:30 Closing words
DAY, SATURDAY, NOVEMBER 16
9:00 – 9:05 Overview of the day
9:05 – 9:20 Building Blocks of a Climate Positive Official Plan
What we have learned! (Report from Youth Climate Ambassadors)
9:20 – 9:35 'Thinking time'
9:35 – 10:00 Card writing, and Group Formation around priority actions with climate-positive impacts
10:00 – 10:20 Action title/imagery, discussion template and logistics
10:20 – 10:40 BREAK
10:40 – 11:30 Group Discussion: Actions, details, next steps for the group, reflections on impacts for neighbourhood contexts
11:30 – 12:30 First and second feedback loops (World Café)
12:30 – 1:30 LUNCH
1:30 – 2:30 Third and fourth feedback loops (World Café)
2:30 – 3:00 Revisions and visual synthesis, in light of feedback.
3:00 – 3:15 BREAK
3:15 – 4:15 Presentations of Synthesis
4:15 – 4:30 Closing words
BACKGROUND ON THE PEOPLE'S PLAN FOR OTTAWA'S CLIMATE EMERGENCY
Who are we? We are organized neighbourhood and environmental groups in Ottawa willing to cooperate amongst ourselves and with the City to make the Climate Emergency a central unifying theme of the new Official Plan and other strategic plans being developed by the City. We acknowledge that the climate emergency cannot be effectively addressed without action on the interrelated challenges of sustainability, social justice and the transition to a carbon-neutral economy.
When and why did the process start? The first meeting on the People's Official Plan (POP) was May 15, 2019, and involved about 25 people and related organizations. It was held at the Champlain Park Field House in Kitchissippi Ward. There have been 5 other face-to-face meetings since, and there are currently 31 people and 15 different organizations and groups directly involved.[1]We acknowledge that many residents in Ottawa are alarmed by the climate crisis, and have launched initiatives to engage citizens and focus attention on fostering climate action by governments, businesses, and the general population. The POP is part of that general movement, and tries to act in solidarity and coordination with others.
What is our primary purpose? Ottawa's New Official Plan will be a policy framework for the physical development of Ottawa over the next few decades (land use and related housing and infrastructure decisions). Other strategic plans are also under review or renewal, including the Climate Change Master Plan, the Transportation Master Plan, and the Waste Management Master Plan, among others. Our primary purpose is help City officials (staff and Councillors) mainstream ambitious climate mitigation and adaptation measures into the Official Plan and city-building decisions at all levels. Our efforts are NOT simply an awareness raising process, but rather a practical step along the path to climate solutions that are also community solutions to the interrelated challenges of our time.
What is our strategy? As informed, competent and organized citizens we are participating actively in City-organized consultations, and cooperating with each other to co-develop and communicate climate-centred policy directions for the new Official Plan. First, we reviewed and developed collective and individual responses to Discussion Papers for the Official Plan prepared by City staff. Second, we reviewed and developed collective responses to five policy directions drafted by City staff, and presented our views at City Council in public meetings. Third, we reviewed and developed three specific responses to the draft Growth Management Strategy outlined by City staff. Currently, we are supporting an Ecology Ottawa campaign to "Hold the line on urban sprawl", and collectively organizing the workshop on Climate Solutions and Ottawa's Official Plan to take place November 15 and 16, 2019. The overarching strategy is to unite urban and rural residents of Ottawa in a movement to demand from City officials, and from ourselves, a response equal to the risks of climate breakdown.
---
[1]Community Associations for Environmental Sustainability, Greenspace Alliance for Canada's Capital, Ecology Ottawa, Federation of Citizen's Associations, Bike Ottawa, Healthy Transportation Coalition, The Energy Mix, Just Food, Ottawa Renewable Energy Cooperative/CoEnergy, The Ottawa Stewardship Council, Waste Watch, Sustainable Living Ottawa East, Extinction Rebellion Ottawa, Climate Reality Leaders, Ottawa Eco-talent Network.