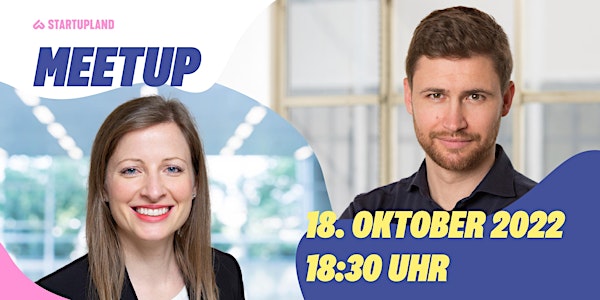 Climate Tech & Startup Pitches beim Startupland Meetup Oktober 2022
Was Mehrwegbecher mit Kläranlagen zu tun haben? Climate Tech & Startup Pitches beim Startupland Meetup im Oktober
When and where
Location
Saal Bira Kulturhaus Dornbirn Rathausplatz 1 6850 Dornbirn Austria
About this event
***Für Tickets ganz nach unten scrollen!!***
Was Mehrwegbecher mit Kläranlagen zu tun haben? Climate Tech & Startup Pitches beim Startupland Meetup im Oktober
Beim Startupland Meetup Oktober steht eines DER großen Themen und Herausforderungen der aktuellen Zeit im Fokus: Nachhaltigkeit, Klimaschutz und Chancen in diesem Bereich für neue, zukunftsfähige Green, Social Impact & Climate Tech Geschäftsmodelle. Und natürlich auch, wie eine solche Umsetzung aussehen kann. Ein solches Beispiel ist kooky – live on stage. 
Zu Gast sind Stephanie Bischof, Associate Director Carbon Removal Investments von South Pole sowie Kooky-Gründer & Mehrwegbecher-Pionier Max Zott. Zudem gehört die Bühne wie gewohnt auch Vorarlberger Startups und ihren Pitches. 
Spannende neue Inputs, Infos und Inspirationen für alle Teilnehmenden garantiert! Zum Abschluss wird in gewohnter Manier bei kostenlosen Getränken und Snacks genetzwerkt.
Im Detail: 
South Pole unterstützt Unternehmen, ihre CO2-Emissionen zu senken und sich für eine klimagerechte Welt einzusetzen und implementiert ganzheitliche Strategien für Klimaschutz und wie sich dadurch langfristige Geschäftsmöglichkeiten für Unternehmen ergeben. 
Im Gespräch mit Stephanie wird Alexander vom Vorarlberger Startup tree.ly sein und darüber sprechen, wo sich gerade spannende, potentielle Geschäftsfelder für neue Ideen und neue Startups auftun, wie es in Zukunft hinsichtlich Investment für Green Tech, Enabling Tech und Clean Tech Startups aussieht. In diesen Bereichen gibt es einen großen Bedarf an neuen Geschäftsideen. Zusätzlich zum Bereich der Emissionsreduktion gibt es inzwischen einen weiteren Bereich – die Emissionsentfernung. Stephanie ist im Bereich Carbon Capture and Storage tätig und wird uns darüber und über den CO2-Zertifikatsmarkt berichten. 
Einen weiteren Schwerpunkt werden wir bei bestehende Startups und neue junge Teams setzen und ihnen aufzeigen wie sie schon von Beginn an ihre Geschäftsmodelle nachhaltig ausrichten können oder in ihre bestehende Strategie integrieren können. 
Max Zott hat mit kooky ein komplett neues System für ein Mehrwegbechersystem entwickelt, das erste solche System für Take-Away Getränke inklusive eigener Rückgabeinfrastruktur –  und rollt dies gerade in der Schweiz aus. Mit dem Ziel, dadurch Abfall, Ressourcen, Wasser – und damit CO2 einzusparen und ein kreislauffähiges System für Becher zu etablieren. Wie das genau funktioniert und wo die kooky-Reise hingeht – das erzählt uns Max beim Startupland Meetup!
Ablauf:
18 Uhr Einlass 18.30 Uhr Begrüßung 18.35 Startup Pitches 19.00 Talk mit Stephanie Bischof, South Pole 19.25 Pause 19.40 Gespräch mit kooky-Gründer Max Zott Ab 20.15 Networking, Drinks & Snacks
Facts & Location: Beginn 18.30 Uhr, Einlass ab 18 Uhr Kulturhaus Dornbirn, Saal Bira
Öffi Anreise: 
Zum Event kannst du kostenlos mit den Öffis anreisen! Ticket direkt hier über den VMOBIL-Eventlink runterladen: vmobil.at/tickets/veranstaltertickets/startupland-event
Save the Date – und am besten gleich ein Ticket!