Description
Clinique de natation Head To Head avec l'olympienne Audrey Lacroix à Montréal !
Il s'agit d'une petite séance de groupe ouverte à tous les nageurs (de 10 à 16 ans). En classe,

Audrey

discutera de
la Gestion du Stress, tandis que, dans l'eau, elle
travaillera sur le

kick sous l'eau, les virages, le style papillon, les éducatifs au crawl

, et bien plus !
Horaire de la clinique:
- 2 heures dans la piscine : Kick sous l'eau, papillon, éducatifs, virages
- 1 heure dans la salle de classe : Gestion du stress
Chaque nageur va recevoir un cahier, des petits cadeaux Head to Head et une experience inoubliable!!
___________________________
Head to Head promotes mental and physical wellness among youth athletes across Canada. Join Olympian Audrey Lacroix, for a swim clinic at the McGill Swimming Pool in Montreal!
This clinic will focus on Underwater kick, Turns, Butterfly and Freestyle drills and technique in the water, and Managing Nerves in the classroom. Clinic sizes will be kept small to ensure that swimmers from all levels (recreation to national level) get lots of attention and feedback.
Clinic Schedule:
- 2hrs in pool: Underwater kick, Turns, Butterfly and Freestyle drills and technique

- 1 hr Classroom Session: Audrey's journey to the Olympic Games and Managing Nerves !

- Q & A, Autographs, and photos
Our Olympians provide youth first-hand insight on the tips and tricks they learned throughout their careers in and out of the pool. The clinic will include time for youth to ask questions, as well as get autographs and photos taken!
Plus d'info d'Audrey / More about Audrey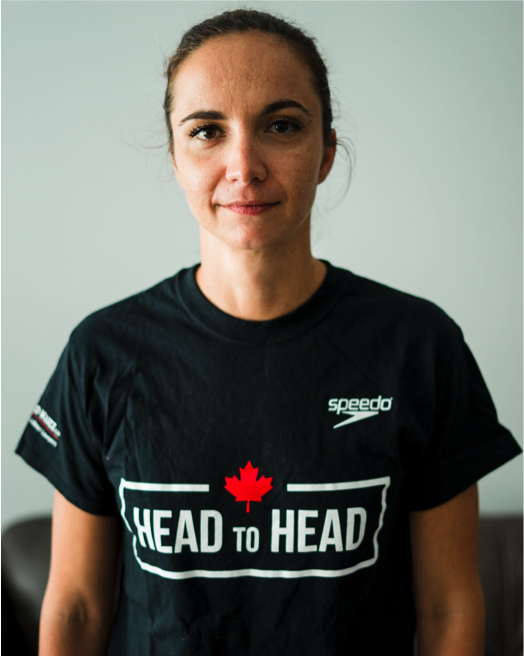 3X olympienne (200M papillon) 2008, 2012, 2016

6X médaillée au Jeux du Commonwealth

2X médaillée au Jeux panaméricains

Membre de l'équipe canadienne de 2001 à 2016

bachelier en communication de l'Université de Montréal
Audrey Lacroix, qui a fait son apparition sur le circuit des Championnats du monde de la FINA en 2001, est la plus expérimentée des membres de l'équipe canadienne. Il s'agissait de sa première de sept participations aux Championnats, un record. En 2007, elle a obtenu son meilleur résultat, une 5e place au 200 m papillon, sa spécialité. Elle s'est également qualifiée pour l'épreuve finale du 200 m papillon aux Championnats du monde en 2009, établissant par le fait même un record canadien. En 2003, à sa première participation aux Jeux panaméricains (sa première compétition au niveau international), Audrey a remporté quatre médailles, notamment la médaille d'or au 200 m papillon.
Douze ans plus tard, en 2015 à Toronto, elle a ajouté une autre médaille d'or à sa récolte des Jeux panaméricains. De plus, elle a participé à quatre Jeux du Commonwealth, récoltant six médailles, dont la médaille d'or au 200 m papillon à Glasgow en 2014. Après un diagnostic de trouble anxieux en 2011, Audrey a pensé abandonner la natation, mais elle encourage dorénavant les autres à parler de leur santé mentale en cas d'inquiétudes. Lors des Jeux de 2016 à Rio, Audrey a participé à la demi-finale du 200 m papillon à ses troisièmes Jeux consécutifs.
_______________________________________
3x Olympic Games semi-finalist (200m butterfly) 2008, 2012, 2016

6x Commonwealth Games medallist

2x Pan American Games Gold medallist (200m butterfly) 2003, 2015

Member of the Canadian Team from 2001 to 2016

Université de Montréal Bachelor in Communication
Audrey Lacroix is the longest-standing member of the national swimming team, having made her FINA World Championship debut in 2001. That was the first of her Canadian-record seven FINA World Championship appearances. She posted her best result, fifth place, in her specialty, the 200m butterfly, in 2007. She also reached the final of the 200m butterfly at the 2009 Worlds, setting the Canadian record in the process. In her first Pan Am Games appearance in 2003, Lacroix won four medals (her first in a major international meet), including gold in the 200m butterfly. She added another Pan Am Games gold medal 12 years later at Toronto 2015. She has also competed in four Commonwealth Games, picking up six medals, including gold in the 200m butterfly at Glasgow 2014. Diagnosed with an anxiety disorder in 2011, Lacroix considered leaving swimming behind but now encourages others to speak up if they are struggling with their mental health. At Rio 2016 Lacroix advanced to the semifinals of the 200m butterfly for the third straight Olympic Games.