Join us for the third event of The Future We Want: The Change We Need series, hosted by the City of Vancouver in partnership with SFU.
About this Event
Many of Vancouver's early-20th-century neighbourhoods include a mix of housing types, shops, schools, parks and more, allowing many residents' needs to be met close to home. However, the legacy of planning for most neighbourhoods in Vancouver is one of exclusion and displacement based on income, race, ability and other elements of our identities. Today, many would argue that their neighbourhoods are not "complete." As we look forward, the first question that the City must reconcile in completing its neighbourhoods is the fact that they are situated on unceded xʷməθkʷəy̓əm (Musqueam), Sḵwx̱wú7mesh (Squamish) and səlilwətaɬ (Tsleil-Waututh) land. Layered on this are other questions such as:
What do neighbourhoods mean to Vancouverites?
When is a neighbourhood "complete," and does a more complete neighbourhood actually benefit residents?
Can we prevent displacement as we accommodate change?
What is our best thinking about how to meet diverse needs in our neighbourhoods?
What has Vancouver missed or erased in the way we have planned and constructed our neighbourhoods in the past century, and what lessons from history can be employed to ensure more liveable neighbourhoods in the future?
Does strengthening individual neighbourhoods strengthen the city overall?
Join us to discuss these questions and more at the third event of The Future We Want: The Change We Need series. This thought-provoking evening will feature a panel of knowledgeable presenters who think about neighbourhoods from different perspectives. Each will bring us their top ideas and insights on what is needed to make Vancouver's communities complete. We'll also be collecting your thoughts for Planning Vancouver Together on how we can feel closer to home in all of Vancouver's neighbourhoods.
Speakers
Javier Campos – President, Heritage Vancouver Society
Javier Campos earned his Architecture Degree from the University of British Columbia after having completed an undergraduate degree in Art History. Previously he was at Acton Ostry Architects where, as lead designer, his projects were widely published and garnered numerous awards — including Canadian Architect and Lieutenant Governor Medals in Architecture. His work adopted a green agenda early and has included off the grid projects since 2001. He became LEED certified in 2004. Javier is also involved in Public Art and has won several competitions with Artist Elspeth Pratt in Vancouver. Javier served on the board of the Contemporary Art Gallery for six years and as well being the current president of the Heritage Vancouver Society, where he established an award winning outreach series on issues around Heritage.
Shirley Chan – Member, Order of British Columbia
Shirley Chan has been an activist in Vancouver for more than 60 years. In the 60s and 70s, Shirley spearheaded the organizing of the Strathcona Property Owners and Tenants Association (SPOTA) to stop demolition of Strathcona & Chinatown; and to stop the building of freeways in Vancouver.
Shirley worked for community non-profits and in the municipal and federal public service. She held leadership roles on many boards including UBC, BC Hydro, Vancity, the Chinese Garden and currently serves on the boards for Learning for a Sustainable Future and Pathways Serious Mental Illness Society.
She received an Honourary Doctorate of Laws (UBC); Outstanding Alumni Award (SFU); YWCA Woman of Distinction Award, Queens Jubilees Medal and in 2020 the Order of British Columbia; and earned a BA from SFU and a Master in Environmental Studies from York University.
Uytae Lee – Video Columnist, CBC
Uytae Lee produces videos that inform and engage the public on the complex issues surrounding our cities. His videos on his YouTube channel 'About Here' have been viewed hundreds of thousands of times, helping raise awareness on topics such as underground streams, SkyTrains, street-food, and much more. In addition to his YouTube channel, Uytae produces a column with CBC Vancouver under the same name where he challenges audiences to 'rethink' their city.
Debra Sparrow – Master Weaver, Public Artist, xʷməθkʷəy̓əm
Acclaimed Musqueam weaver, artist and knowledge keeper Debra Sparrow is a leading figure in the revival of Musqueam Coast Salish weaving. She once said she wouldn't stop until she saw the city of Vancouver swathed in Coast Salish patterns and she's well on her way to achieving that goal.
Amy Robinson – Founder and Executive Director, LOCO BC
Amy has over 20 years' experience working with businesses to embed sustainability into operations. She has worked with organizations ranging from small and medium sized enterprises (SMEs) to big industry, regional governments and the UN. However, she has a passion for small businesses, with their unique challenges and opportunities. In 2009, Amy founded the not-for-profit organization LOCO BC. LOCO's work springs from her perception that BC undervalues the economic and social pillars of sustainability that strengthen communities, build resilience and foster innovation. At LOCO Amy has spearheaded important research on local business, covering the economic multiplier effect, the impact of online shopping on local businesses, the empty storefront phenomenon, strategies to protect legacy businesses, and the economic impact of permit and license wait times. She also led the development of a Community Impact Assessment tool to measure and improve the economic impact of local businesses. Amy is a recognized local economy leader, she was a 2013 fellow with the Business Alliance for Local Living Economies (now Common Future), was nominated for a YWCA Women of Distinction Award in 2020, and has been a sessional instructor at SFU in Local Economics since 2019.
Zahra Esmail – Executive Director, South Vancouver Neighbourhood House & Marpole Neighbourhood House
Zahra Esmail has been the Executive Director of the vibrant South Vancouver Neighbourhood House since 2016, and is the first Executive Director of the Marpole Neighbourhood House, which opened under her leadership in 2019. Zahra works with her diverse teams to build community connections and strengthen the neighbourhoods of Killarney, Victoria-Fraserview, Sunset and Marpole in Vancouver. She is deeply committed to equity, social justice, and anti-racism, and engages in change-making at grassroots and systems levels.
With a background in community development and microfinance, Zahra has worked with marginalized populations across the globe for many years. She has extensive experience with participatory development and community-led project design and implementation, and has lived and worked in Canada, Asia, Latin America, Africa and the Caribbean. Prior to her current role, Zahra was the General Manager of Eva's Phoenix, a transitional shelter and training program in Toronto. She has also worked in international development with Street Kids International, Haven Haiti and BRAC.
Zahra has a Masters in Globalization and International Development from the University of Ottawa, a Bachelors in History from UBC, and an Associate Certificate in Fundraising Management from BCIT. She is an active member of the Poverty Reduction Advisory Committee, an independent committee that advises government on policy developments related to poverty reduction and prevention. Zahra recently joined the Honorary Governors Council at Vancouver Foundation, and was recognized as one of Business in Vancouver's Forty Under 40 in 2019.
Harvey Low – Retired Former Manager, Community Services Social Research Unit, City of Toronto (1984 - 2020)
With a degree in Urban & Regional Planning, Harvey Low recently retired after 36 years of service with the City of Toronto. His expertise focused on neighbourhood planning with a lens on social policy. Harvey worked on many place-based initiatives, notably the Strong Neighbourhood Strategy, and the recently completed Regent Park Revitalization Plan. He has also worked directly with community-based non-profit agencies and citizen groups on a host of equity and service planning projects from transportation studies, to safe communities. Final responsibilities prior to retirement included direct operational support to the Toronto Emergency Office in support of local pandemic planning efforts.
Moderators
Meg Holden – Professor and Director, SFU Urban Studies
Meg Holden is professor and director of the urban studies program and professor in the department of geography at SFU. Meg is an urban environmental pragmatist. Her engaged research program examines urban policy, planning and social aspects of sustainable development intentions and transitions in cities and communities, with foci in value-based measurement and indicators, community well-being and livability, neighbourhood housing, planning and experience, and local democracy and justice.
Andy Yan – Director, The City Program at Simon Fraser University
Andy Yan is the director of The City Program at Simon Fraser University. Born and raised in Vancouver, Andy Yan has extensively worked in the non-profit and private urban planning sectors with projects in the metropolitan regions of Vancouver, San Francisco, New York City, Los Angeles and New Orleans. Andy is a registered professional planner with the Canadian Institute of Planners. He is also an adjunct professor in Urban Studies at SFU as well as an adjunct professor in the School of Community and Regional Planning at the University of British Columbia.
About the Series
The future we want will not be achieved by applying the solutions of yesterday to the challenges facing our city and communities today. In collaboration with Simon Fraser University, the City of Vancouver presents The Future We Want: The Change We Need — a free, online, interactive dialogue series that brings together new and varied perspectives and ideas to shape the transformative social, economic and physical changes we need.
This series will invite knowledge keepers, thought leaders, changemakers and community members to discuss, deliberate and share their thoughts on the future of the City of Vancouver. These dialogues will contribute to the Planning Vancouver Together planning process, informed by policy analysis, scenario development and public engagement, to create a new, long-term strategic citywide plan looking to 2050 and beyond.
Each of the six conversations in this series will address the biggest challenges standing in the way of achieving our goals; and new ideas – big and small – to help unlock our collective potential as a truly just, resilient, sustainable, affordable and culturally vibrant Vancouver.
_________________________________________________________________________________________________
PARTNERS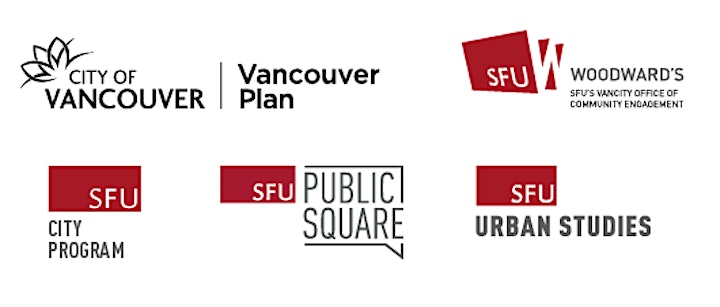 _________________________________________________________________________________________________
ACCESSIBILITY, TECHNOLOGY AND PRIVACY
Accessibility
Closed captioning and ASL interpretation will be available for this event.
Registration and password
A password to access this webinar will be sent to all registrants via email in the days and hours preceding the event.
Technology requirements
This workshop will be presented in a participatory webinar format. To engage fully you will need:
A laptop, computer, or smartphone
A webcam
A microphone
Speakers or headphones
Protecting your privacy
To ensure that we are using online meeting technology in a privacy-conscious way, we are following best practices for this online event series:
We will only circulate the meeting link to those who are registered for the event
We will password protect the meeting
We will enable end-to-end encryption
We will not use attention tracking
We will ask that participants use their first and last name as their display name on the webinar, so we can check incoming participants against the event registration list
To protect your own privacy we suggest that:
You use a unique email address to log into the webinar. This is so that the webinar platform can't cross-reference your profile with the rest of your digital profiles under your email address.
We suggest you do not use your Facebook profile to log into the webinar. This is so that the webinar platform can't cross-reference you with your Facebook account.
We remind you that whatever you say in the webinar is public and recorded, so please do not share sensitive information about yourself or others, and do not say anything you do not wish to enter the public domain.
To protect the privacy of others we ask that:
You do not record or photograph yourself, other participants, or the hosts during the webinar, unless permission is requested and given.
If you have any questions, concerns, or comments regarding this event's accessibility or privacy, feel free to connect with us at psqevent@sfu.ca.
________________________________________________________________________________________________
Commitment to community guidelines and social accountability
All participants are asked to participate as socially accountable community members. We ask that you provide your full name as your display name during the online meeting and that you review our community guidelines ahead of your participation in the event. This is to ensure the safety of our guests and speakers as well as foster honest and accountable dialogue between people in this space. Thank you for respecting our community guidelines!
Above all, there will be zero tolerance for those who promote violence against others on the basis of race, ethnicity, national origin, sexual orientation, gender identity, religious affiliation, or different ability. Anyone who incites harm towards other participants (be it through the chat, video or audio functions) will be removed at the discretion of our technical team and moderator.
Be as present as possible (put away phone, close/mute tabs).
Thoughtful questions are welcome in the chat throughout the session. If your question is for a particular speaker, type "@name" at the beginning.
Respect the opinions of others. Every participant brings information, points of view and ideas to contribute.
Don't assume pronouns/gender/knowledge based on someone's name or video image. We can refer to people using the usernames they provide!
Step up, step back: if you've asked a question or shared a comment, ensure that new voices are heard before you contribute again.
Practice self-care: if you need to get up or take a break, please feel free.